AeroMaster Products sheet 32-019 provides markings for a further four post-1940 Supermarine Spitfires. Although the title says otherwise, all the options are either Mk Vc or Mk Vb. All are in the RAF temperate scheme of dark green and ocean grey upper surfaces over medium sea grey lower surfaces with sky spinners (with one exception) and rear fuselage bands. The individual aircraft are: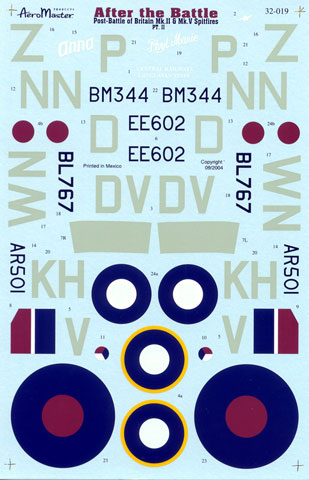 Mk Vc, EE602, DZ-V Central Railways Uruguayan Staff. The machine belonged to 192 (Province of Mysore) Squadron based at Ibsley in the May of 1943. The provided markings are:
· Sky DV squadron and individual aircraft V code letters.
· Black EE602 serial. The placement guide advises that this was partially over painted by the sky fuselage band so you will have to "adjust" this decal yourself.
· Central Railways Uruguayan Staff title in white.
· Some form of emblem/marking in white.
Mk Vc AR501, NN-D of 310 (Czech) Squadron at Exeter in August of 1943. The provided markings are:
· Black AR501 serial.
· Small modern-day Czech national insignia.
Mk Vb BL767, WN-Z 'Anna' from 527 (Radar Calibration) Squadron, Digby in early 1945. This machine sports a red spinner with a white back plate instead of a standard sky one. The provided markings are:
· Sky- WN squadron and individual aircraft Z code letters.
· Black BL767 serial number.
· The name 'Anna', in white.
Mk Vb BM344, KH-P 'Phyl Marie' as flown by Squadron Leader Syd Ford, 403 (Canadian) Squadron from Manston in the August of 1943. The provided markings are:
· Sky- KH squadron and individual aircraft P code letters.
· Black BM344 serial number.
· The name 'Phyl Marie' in white.
There is a single set of national insignia provided for all three machines. They are a pair of Type C1 roundels for the fuselage, a pair of type C for the undersides of the wings and a pair of Type Bs for the upper surfaces of the wings. The red centres of the type C1 and C roundels are provided as separate decals in case of register problems. A single set of 24" fin flashes and a two-part sky rear fuselage band is also provided.
As with the 'Part 1' sheet, no stencil data is provided. Granted, the sheet is pretty full so perhaps this is why AeroMaster have not included it. A pity though as you will really miss the data on a 1/32 scale kit
The placement guide is A-4 in size and shows left hand side colour profiles of each option, as well as a plan view of the topsides and scrap views of the wing under surfaces.
The decals have been "printed in Mexico" and look to be every bit as good as the stuff we see from Microscale. Everything is in perfect register and the colours seem pretty right to me.
The suggested kit is the Hasegawa effort – old but still nice! Be aware though, if you want to model the first two options, the Mk Vc, you will have to carry out a conversion to the kit – a quick 'Google' will help you there!
The decal sheet and placement guide come packed in a clear plastic zip-loc bag.
Nice stuff from AeroMaster.
Recommended.