S u m m a r y

Catalogue Number:
AMD 48-596 Best Sellers - Marauding Invaders Part I
Scale:
1/48
Contents and Media:
Waterslide decals
Price:
USD$10.00 MSRP (USD$8.97 from Squadron.com)
Review Type:
FirstLook
Advantages:
Interesting markings; crisply printed; perfect register; good instructions
Disadvantages:
Some question about either the date or the accuracy of markings on Option 1; and doubt (as mentioned in the instructions) about the colour of Option 2.
Recommendation:
Recommended

Reviewed by Rodger Kelly


Aeromaster's 1/48 scale Marauding Invaders Part I is available online from Squadron.com
This is another of AeroMaster's Best Sellers sheets. This time it is part one of a two sheet issue covering the A-26 Invader and markings for three aircraft are provided.

First is A-26C, serial number 43-22555 of the 86th Bomb Squadron, 47th Bomb Group, 12th Air Force based in Italy in 1945.

Camouflage is overall black with white 54 plane-in-squadron number, serial and national insignia. Other markings include USAF in red for the upper right and lower left wing and a small squadron insignia for the nose.

I'm not sure that the use of USAF titles is correct for an aircraft of 1945 vintage as the USAF didn't come into being until 1947. It is also unusual to see the serial number in white on a black aircraft. These were normally seen in red. A further oddity is the use of all white national insignia. These were seen on US Navy aircraft, not AAF machines. Having said this though, I may be wrong and these markings were applied at a local level. I'd be interested in finding out!

Next is an A-26B. Serial number 43-34532 of the 730th Bomb Squadron based in Korea in 1950.

Camouflage is overall olive drab with a natural metal fin and yellow fin cap and wing tips. Markings are yellow USAFs, serial number (black on the natural metal) BC-532 "buzz numbers. The nose bears a white question mark and bomb tally. The placement sheet notes state that some believe this aircraft to be overall faded black rather that olive drab. If that is the case then I believe that the yellow markings would have been in red.

The last machine is an A-26B. Serial number 44-34571 "KTTV Channel 11" of the 729th Bomb Squadron, 452nd Bomb Group based a Taegu, Korea in 1951. The aircraft is in overall natural metal finish with olive drab anti-glare panels on the nose and the inner sides of the engine cowlings. The fin tips and tips of the wings and horizontal stabilizers, as well as the propeller domes are red.

Markings are black USAFs, serial number, buzz number and U.S. Air Force (for the fin). The KTTV Channel 11 titles are in red as are the mission markings. Nose art of a nude female is also included.

No controversy with this one as there is a great colour photo of her on page 61 of the Robert F. Dorr/Warren Thompson "The Korean Air War" book.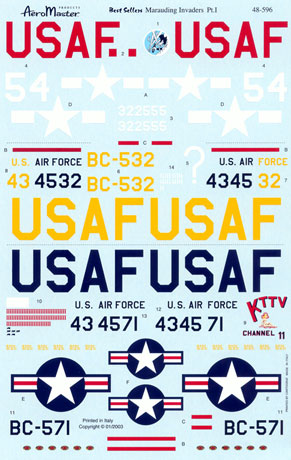 There is one set of national insignia to share between the last two aircraft as well as enough propeller stencils and logos for two aircraft. Sufficient red propeller warning bands are provided for all aircraft.

The decals themselves have been printed in Italy by Cartograf. They are well up to Cartograf's high standards being in perfect register and clarity.

The placement guide is in Aeromaster's normal double-sided A-4 sheet which gives full-colour side profiles as well as plan-views of each aircraft's wings. The placement guide also provides a list of references to help in researching each aircraft. The suggested kit is the Revell/Monogram/Pro-Modeller one.

A well produced sheet from AeroMaster. No doubt the colours and markings of the first two aircraft will cause some traffic on the discussion board which will hopefully identify the correct manner in which they painted and marked.

Notwithstanding the interpretation of the first two aircraft this sheet is recommended.
Recommended.