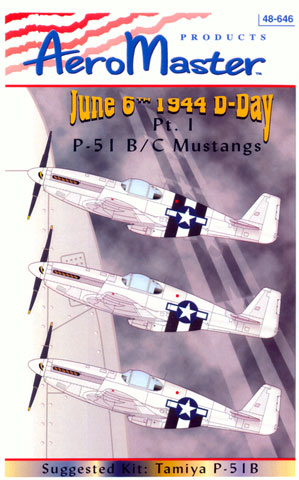 June 6th 1944
D-Day
Pts. 1-4
P-51 Mustang
P-47 Thunderbolt
AeroMaster Decals

S u m m a r y

Catalogue Number:
AMD48-646 – P-51B/C D-Day Invasion Stripes.
AMD48-647 – P-51D D-Day Invasion Stripes.
AMD48-650 – P-47D Razorback D-Day Invasion Stripes.
AMD48-651 – P-47D Bubble Top D-Day Invasion Stripes.
Scale:
1/48
Contents and Media:
Waterslide decals plus instructions and notes
Price:
each USD$7.97 from Squadron.com
Review Type:
FirstLook
Advantages:
Helpful and simple way to add invasion stripes; useful range of US fighters covered; high quality printing and presentation.
Disadvantages:
Recommendation:
Recommended

Reviewed by Rodger Kelly


Aeromaster's 1/48 scale Invasion Stripes are available online from Squadron.com
Ever wanted to build that killer P-51 or P-47 in D-Day markings but were put off by the thought of trying to mask and paint over a natural metal finish? Well AeroMaster has come to your rescue with the issue of four sheets covering both razor back and bubble top P-51s and P-47s that makes the task a breeze.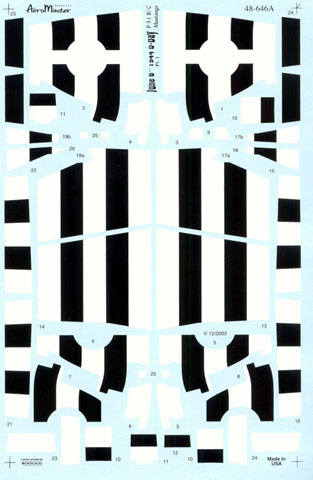 But firstly, just what were these black and white stripes all about and why were they applied to allied aircraft during the first week of June 1944?
AeroMaster's placement guide says it all. I quote:
"By June 6, 1944, the Allies had achieved air supremacy in the skies over Western Europe. Proof of this fact is that only two Luftwaffe aircraft flew over the Normandy beaches and made a light hearted strafing pass on 6/6/44. These two airplanes were flown by Oberst 'Pips' Priller and his wingman.
However, during the planning of the Normandy landings, allied commanders feared the possibility of tremendous aircraft losses due to friendly fire. Something had to be done to avoid confusion. Therefore, it was decided to mark every aircraft operating over the beaches with distinctive black and white stripes around the wings and the fuselages.
Specific markings were designed for each type of aircraft and, as it is always the case, many variants appeared. These variants differed in size, position and neatness of application. In all fairness to the ground crews, we must realize that these stripes were painted in a time span of 12 to 36 hours prior to the early hours of the invasion. Some were neatly applied, while others looked like they were painted after a few good English beers in the local pub with mops and rollers!
Full invasion markings lasted very little (approximately 3-4 weeks). Then, sections were taken out with the excuse that the markings made the aircraft very conspicuous when viewed from above. The first areas to be re-camouflaged were the upper surfaces, with bands sometimes being removed, sometimes just painted over. In the last case, occasionally there was a colour difference on the areas covering the white or black. At times, the national insignia was edged with natural metal outline (mostly on the fuselage area)."
The individual sheets are:
48-646 – P-51B/C.
48-647 – P-51D.
48-650 – P-47D Razorback.
48-651 – P-47D Bubble Top.
A complete set of markings are supplied on each sheet along with the more common variations.
---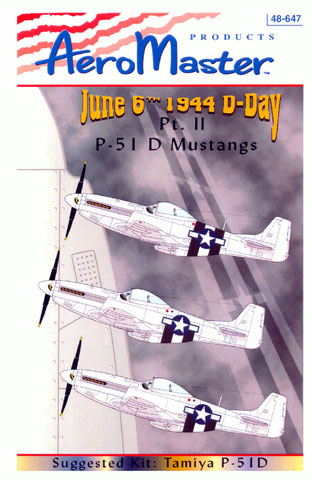 P-51 Sheets
48-646 – P-51B/C and
48-647 – P-51D
As well as both upper and lower wing surfaces (with separate decals for the flaps - two sets of each) The P-51 sheets offer full fuselage white-black-white–black-white stripes as well as the half fuselage ones and the abbreviated half fuselage black-white-black option.
The white on the tail wheel doors are supplied as decals as are the main gear doors (two sets of each).
Mixed up amongst the stripes are two sets of theatre bands for the horizontal stabilizers, a black set for natural metal/silver lacquer finished machines and a white set for earlier olive drab over neutral grey P-51s. Note that these are not D-Day markings but they are nice to have anyway!
A further advantage of the P-51 sheets is that you don't have to be as diligent in polishing out the sanding marks after eliminating the seam in the smaller vent door as the decal will cover up any unpolished plastic that would normally stand out if you were to paint it with metal finish type paint.
Judicious use of this set and reference to photographs will result in you being able to model at least three different aircraft from this sheet.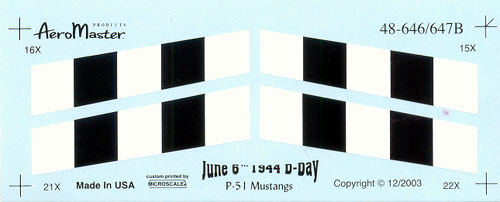 ---
P-47D Sheets
48-650 – P-47D Razorback and
48-651 – P-47D Bubble Top
As with the P-51 sheets, a single complete set of markings are supplied as well as abbreviated mid fuselage and lower fuselage stripes.
Separate decals are provided for the main gear doors (a single set this time and in three parts) as well as the tiny white portions for the tail wheel doors. The flaps are also supplied as separate decals with the "hinges" even getting their own separate decals. The problem of the pylon being within the outboard stripes is solved by the supply of a separate decal to butt up against them.
Unfortunately, you will have to paint the turbo charger doors and turbo exhaust yourself as AeroMaster has not supplied them citing that it was not possible to supply all of the many possible variations in D-Day stripe application seen on P-47s. The latter doesn't seem to be a problem as many of them don't seem to have been painted at all – check you references first!
All sheets feature small separate blocks of both black and white decals to enable you to repair any goofs that you may encounter in application of the larger decals.
The decals have been printed by Microscale and are certainly up to their high standards. Extra attention seems to have been paid during the printing process as the film surrounding each design is at an absolute minimum so as it doesn't pose a problem when applying them.
The placement guides show the various applications of the fuselage stripes as well as full upper and lower surface plan views.
The decals and placement guides come packed in a clear plastic zip-loc bag.
The sheets have been specifically tailored to fit the Tamiya kits but (to quote the placement guide again) "We know that most of you will be able to adjust them to fit the Hasegawa models with a bit of patience, care and a sharp Ex-Acto knife."
Click the thumbnails below to view larger images:
Variations in the application of D-Day markings abounded, no doubt due to different interpretations of the application order and the time spent in applying them, so to quote the sage advice of a old Army friend of mine "time spent in reconnaissance is time seldom wasted".
The Internet is a wonderful thing and simply typing in D-Day+Mustang or D-Day+Thunderbolt into a search engine will return many images that you can study. Avoid using modern day warbird restorations as a reference as they are not always right. You are far better off relying on WWII photographs.
Nice stuff from AeroMaster!
Recommended.
Thanks to AeroMaster / Eagle Strike Products for the review sets
---
On-line sales are available from the AeroMaster Products / Eagle Strike Productions web site.

---
Review TextCopyright © 2004 by Rodger Kelly
This Page Created on 19 February, 2004
Last updated 19 February, 2004
Back to HyperScale Main Page