Aussie Mk V Spits
Pts1 & 2
1/48 scale
Aeromaster Decals

S u m m a r y

Catalogue Number:
48-666 and 48-667
Scale:
1/48
Contents and Media:
Waterslide decals plus instructions and notes
Price:
MSRP USD$9.50 available from Aeromaster's website
Review Type:
FirstLook
Advantages:
Two decal sets providing coverage of seven Spitfire Mk Vc Trops from four RAAF and one RAF squadrons. Perfect register and minimal carrier film.
Disadvantages:
Some possible errors in colour choices on individual aircraft/markings.
Recommendation:
Recommended
Reviewed by Ken Bowes


Aeromaster Decals' 1/48 scale Aussie Mk.V Spits are available online from Squadron.com

I was very excited when I noticed in the Eagle Strike/Aeromaster advertisement in a modeling magazine a few months back that they were planning to release not one but two sheets covering Spitfire Vc Trops serving in RAAF North West Area (NWA - Darwin) and South West Pacific Area (SWPA). As a serving RAAF member I have often focused my modeling efforts on subjects that saw RAAF service so as soon as they were available I ordered the two sheets direct from Eagle Strike. With no kit of the Spitfire MkVc readily available (aside from the Airfix re-tool) it seemed a somewhat unusual subject for a new Aeromaster release but welcome none-the-less. Now with the sheets in my possession it is out with the references and a critical examination.

For those who have previously used Aeromaster Decals the package should come as no surprise. Included in the ziplock bag a full colour A4 instruction sheet providing side views of all subjects and a generic top/bottom view to assist location of stencilling. The decals themselves are spread over one A5 sheet per set and include all the unique markings and some useful Spitfire stencils, although these were not commonly seen on RAAF Spitfires following repaint into RAAF colours.

Subjects covered across the two sets are:
48-666
JL795 DL H of 54 (RAF) Squadron Darwin Area 1943;

A58-262 UP A of 79 Squadron Los Negros Islands 1944; and

Unknown Serial ZP Triangle of 457 Squadron Darwin Area 1943.
---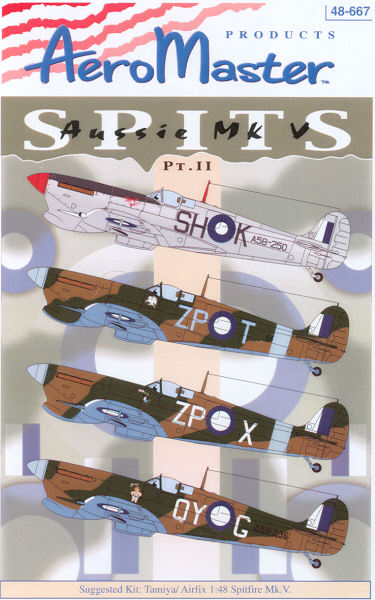 48-667
A58-250 SH K of 85 Squadron RAAF Pearce Western Australia 1945;

BR543 ZP T of 457 Squadron Darwin Area 1943;

BS219 ZP X of 457 Squadron Darwin Area 1943; and

A58-236 QY G of 452 Squadron Darwin Area 1943.
---
With Aeromaster citing the excellent Pacific Spitfires Website (now sadly a pay to access site) and Geoffrey Pentlandís seminal RAAF Camouflage and Markings 1939-1945 Parts 1 and 2 as references the modeller is easily guided to sources of photographs and in depth research material on the subjects include in each set. Unfortunately it also highlights some errors and traps for those unfamiliar with the intricacies of RAAF colours and markings. The actual colours applied to these aircraft remain a point of conjecture, particularly due to the variation in factory applied schemes and partial repaints, however the details provided by Aeromaster match most common references for the subjects (although sky undersurfaces on two subjects are unlikely, with Azure Blue or RAAF Sky Blue being the more likely candidates).

What is disappointing is that Aeromaster have carried over the use of white code letters for two aircraft (ZP X and QY G) as portrayed on their sheet 48-124 Spitfires Down Under, when current thinking in their cited references is for RAAF Sky Blue (IAW Air Force Confidential Order A3/43 of 4 Jan 1943). Given they have used the RAAF Sky Blue in other subjects on the sheets this is surprising, more so as these two have some of the best artwork, including two kill markings on ZP X. That aside it is also worth noting that A58-262 did not have the outboard cannon stubs when photographed in 1944 and A58-250 had narrow breech cover fairings ala the Mk VIII and later Mk IXs. Also note that RAAF MK Vs used the DH metal prop/blunt spinner and this needs to be sourced elsewhere if converting the Tamiya Vb Trop.

I have used Aeromaster decals before they have proved to be trouble free, easy to apply and respond well to applications of Micro Sol/Set. These sheets are printed in Italy by Cartograf and are among the best decal printing I have seen with the complex nose art all in register.

Despite the reservations I have noted above, these still represent an excellent source of markings for those interested in adding an RAAF Spitfire Mk Vc to their collection. I for one have several Tamiya MkVb Trop kits that will become MK Vcs with the aid of these sheets and the useful BAP C wing conversion. Aeromaster has once again come up with a good product and should be commended for their more unusual subject choices. The inaccuracies outlined above can be worked around and the modeller should still find plenty of inspiration contained herein.

Recommended for fans of the Spitfire and RAAF buffs.
Click the thumbnails below to view larger images:
---
On-line sales are available from the AeroMaster Products / Eagle Strike Productions web site.

---
Review Text and Images Copyright © 2004 by Ken Bowes
This Page Created on 09 July, 2004
Last updated 09 July, 2004
Back to HyperScale Main Page