AeroMaster 48-672 is the second of two new sheets covering the B-17 Flying Fortress. This time, both machines are earlier F models and are in olive drab over neutral grey camouflage.
The individual aircraft are as follows.
42-30857, "My Devotion" of the 501st Bomb Squadron, 351st Bomb Group 8th Air Force based at Polebrook in the UK. Supplied markings include: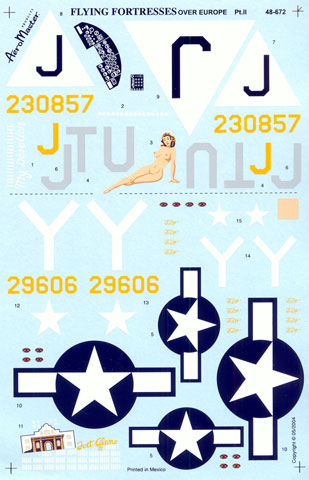 351st Bomb Group black letter J in a white triangle group marking for the fin and upper starboard wing.
Grey TU squadron codes and J individual aircraft letter.

Yellow J individual aircraft letter for the fin.

Yellow 42-30857 aircraft serial number for the fin.

A "kill log" consisting of 16 white Balkan Cruz.

The name "My Devotion" with a "mission log" of 20 bombs in white.

Nose art in the form of a reclining nude.
42-9606 of the 840th Bomb Squadron, 483rd Bomb Group, 15th Air Force based at either Tortorella or Sterparone, in Italy. This machine wore a red rudder, horizontal stabilizers and spinners. The supplied individual markings are:
White letter Y group markings for the fin and (unusually) for the tops of the horizontal stabilizers.
Yellow 42-9606 serial for the fin.
White star (squadron marking?) for the fin.
Comprehensive nose art that includes a painting of Fort Alamo, the name Fort Alamo in yellow and a "bomb log" comprising 130 white bomb silhouettes.
As with the first of these two new B-17 sheets, stencil data is confined to a single set of propeller logos and stencils. Two sets of national insignia are provided, one set on the main sheet with a further set on a supplementary sheet. Interestingly, the set on the supplementary sheet is a paler blue that those on the main sheet. There is also an instrument panel and pedestal decal provided.
The decals have been printed in Mexico. They are thin, but not as thin as other "printed in Mexico" decals from AeroMaster/Eagle Strike. Everything is in perfect register and each design has a minimum of decal film surrounding each design which is good as decal film really shows up on natural metal finish models.
The placement guide is A-4 in size and shows coloured side profile of each machine in the centre pages with plan views of the wings on the reverse side. The guide also lists the references consulted in producing the sheet.
The placement guide and the two decal sheets are packed in a clear plastic zip-loc bag.
The suggested kit is the Revell E/F one.
Recommended.
Thanks to Aeromaster / Eagle Strike Products for the review sets
---
On-line sales are available from the AeroMaster Products / Eagle Strike Productions web site.
---
Review TextCopyright © 2004 by Rodger Kelly
This Page Created on 20 August, 2004
Last updated 19 August, 2004
Back to HyperScale Main Page