As the title suggests, sheet 48-681 from AeroMaster Products covers Post 1940 Supermarine Spitfires Mk II and Mk Vs. Markings are provided for four different aircraft in a variety of camouflage schemes.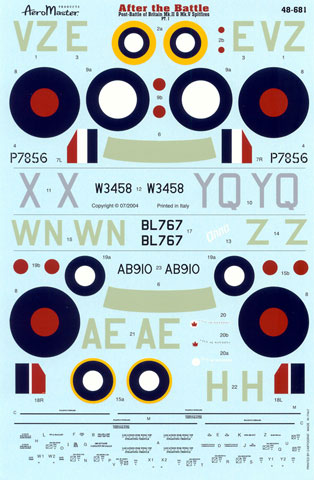 The individual aircraft and their markings are:
Mk II, PZ7856, VZ-E as flown by Flight Sergeant E.N. McDonnell of 412 (Canadian) Squadron in October of 1941. The machine is finished in dark green and mixed grey upper surfaces over light sky blue under surfaces with a sky spinner and rear fuselage band.

Mk Vb W3458, YQ-X flown by Flight Lieutenant Les 'Buck' Casson of 616 (South Yorkshire) Squadron in August of 1941. Camouflage is dark earth and dark green upper surfaces over sky under surfaces with a shy spinner and rear fuselage band.

Mk Vb BL767, WN-Z "Anna' of 527 (Radar Calibration) Squadron, Digby in early 1945 in June of 1943. Camouflage is the RAF Temperate Scheme of dark green and ocean grey upper surfaces over medium sea grey undersides and a sky rear fuselage band. The spinner is red whilst the backing plate is white (I'd have a beer on it that it was sky though!).

Mk Vb AB910, AE-H of 402 (Canadian) Squadron, Horne, in June of 1944. The machine is also in the RAF Temperate scheme with a sky spinner and rear fuselage band and a full set of D-Day markings. The machine also sports 'City of Winnipeg' scripts and red maple leaf insignia on a white circle background. These latter two markings are supplied as both single and two-part decals to counter any register problems – none on my sample.
One set of type A1 fuselage roundels, type B upper wing roundels; type A under wing roundels and 27" fin flashes will have to be shared between the first two options whilst each has its own serial number and squadron codes provided. The red centres of the roundels (with the exception of the type Bs) are supplied separately in case of register problems.
The two Temperate Scheme machines also share a single set of type C1 fuselage roundels, type C under wing roundels and type B upper wing roundels and a pair of 24" fin flashes. A single complete set of stencil data completes the provided markings.
The placement guide is A-4 in size. It shows left hand side colour profiles of, as well as plan views of the topsides and scrap views of the wing under surfaces for each option. There is a further three-view drawing that shows the stencil data placement albeit for a Mk IX.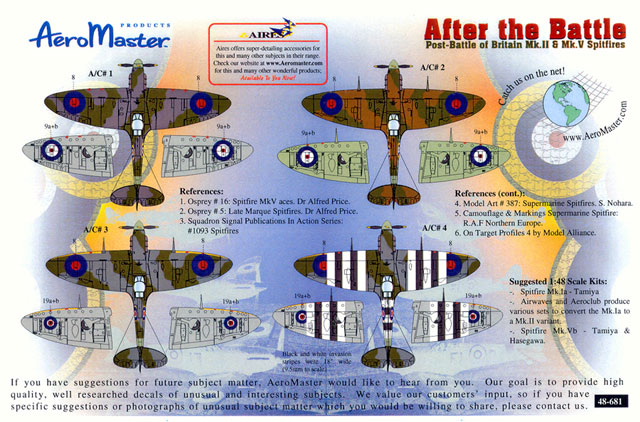 The decals have been printed by Cartograf.
Recommended.