More gull grey and white! AeroMaster 48-741 is sheet number four in AeroMaster's considerable coverage of North American Aviation's RA-5C Vigilante. This sheet provides markings for two aircraft of the U.S. Navy's Pacific Fleet.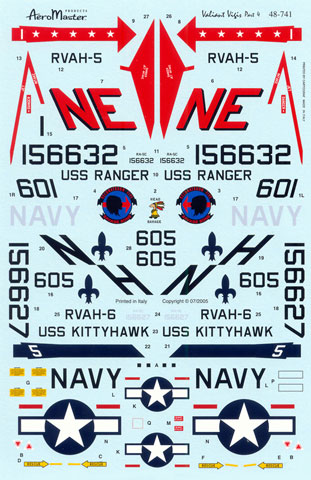 The first machine is Bureau number 156632 of RVAH-5 (Savage Sons).
The markings depict the machine from her time aboard the USS Ranger during the Squadrons fifth deployment to Vietnam in 1972. Finish is semi-gloss gull grey upper surfaces over gloss white undersides and control surfaces with a tan radome.

Bearing the modex 601 indicates that the machine was assigned to the Squadron's Commanding Officer and the words "Head Savage" and the small American Indian cartoon painted on her starboard side confirm this.

Her squadron markings are predominately red which is unusual as the colour red was normally the domain of the first fighter squadron assigned to the carrier. Her markings include squadron insignia for both sides of the airframe, red arrows (with white stars) for her vertical stabiliser, red NE airwing identifiers, as well as large and small Bureau numbers, ship's and squadron titles, modex and intake warnings.
The alternative is Bureau number 156627 of RVAH-6 (Fleurs).
The markings depict her during her time aboard the USS Kittyhawk off the coast of North Vietnam during the Squadron's 1970/71 cruise.

In the same finish as the first option, the machine features the early factory applied light blue US NAVY titles and Bureau numbers, full triangle intake warnings, and the second version of the Squadron's tail markings.

Her other supplied markings include large black Bureau numbers, 605 modex, and ship's and squadron titles.
The sheet includes a single set of national insignia as well as two sets of stencil data. The stencil data is of the larger more visible type and includes rescue arrows and exhaust warnings. The suggested kit is the Trumpeter one.

The decals themselves have been printed by Cartograf. They are sharply printed and in perfect register. Whilst not as user friendly as Superscale decals you will achieve the same results with patience and plenty of settling solution.

The placement guide shows left hand side views of both machines as well as upper surfaces of the wings of both machines.

The placement guide and the decal sheet are packed in a clear plastic zip-loc bag.

Recommended.

---

Footnote
References abound for the RA-5. The best I have found is the Osprey Publications RA-5C Vigilante Units Combat (number 51 in their Combat Aircraft series). It provides a well written narrative that covers the detail points of the aircraft as well its combat history.