This certainly is a surprise release form Aeromaster since it doesn't coincide with a new kit of the Sopwith triplane. One can only assume that the recent offerings of the similar Fokker product had a hand in this.

It is the first part of a two part set and introduces four diverse schemes in which to decorate your subject. The recommended kit is the Eduard Triplane which can still be found in one of three different incarnations.

Although it is a few years old now, the kit is excellent and a very good model can be built straight from the box.

The printing of the single decal sheet is up to the usual high standards, with sharp outlines and perfect register. The latter is helped by the separate rendition of the red roundel centre.

Stencil data is not forgotten and includes a number of useful items. These include propeller and strut logos, "Lift Here" instructions, and multiple rows of stitching. Aeromaster should be applauded for providing the modeler with enough for all four aircraft.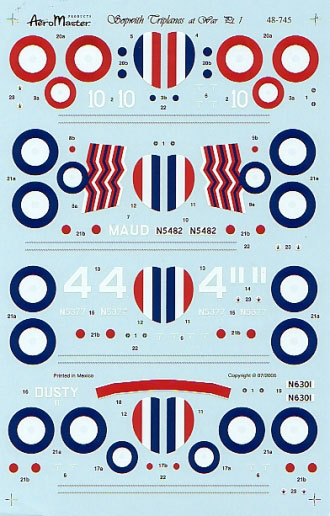 1. Sopwith Triplane "10", Centre d' Aviation Maritime, Dunkirk, France, 1917.
This is one of a number of triplanes ordered by the French Government in late 1916. They flew with the Centre d' Aviation Maritime based at St. Pol, along with a small number of Nieuport 17 and SPAD VII fighters.

Quartermaster Pierre Malvoisin claimed an Albatros two-seater in this aircraft on 12 April 1917. His total score was four confirmed victories and three probables. He survived the war after being shot down in a Hanriot HD2 and was made a POW. He died in 1981.

Although the instructions quote PC-10, it is believed that French triplanes were finished in PC-12.
---
2. Sopwith Triplane N5482 "Maud", 8 Naval Squadron, St.-Eloi, France, mid 1917
"Maud" was seen in the original Eduard release of the Sopwith triplane. C D Booker flew "N5482" to score 17 victories, out of a total of 21 in the type. He finished with 29 successful combats before becoming a victim himself to Jasta 19 ace Ulrich Nickel.

His personal marking was the red/white/blue zigzag pattern that surrounded the fuselage.
---
3. Sopwith Triplane N5377 "4", 1 Naval Squadron, Bailleul, France, October 1917.
This subject has also been seen before except this time in the "Profi Pack" version. A photo of this machine shows a different position of the upper fuselage "4". It is situated a little further back towards the tail and not aligned with the fuselage numeral as illustrated.

One victory was scored in this aircraft, by E Pierce of 9 Naval Squadron on 17 July 1917. Revenge was taken when Ltn. Wilde of Jasta 4 forced it down on 3 October but in this case it was piloted by M J Watson, who was taken prisoner.
---
4. Sopwith Triplane N6301 "Dusty II", 8 Naval Squadron, St-Eloi, France, May 1917.
This aircraft traveled between several squadrons. Many pilots flew her including FSL R McDonald, and the aces F H M Maynard and H V Rowley. Captain Maynard claimed six victories in the type which constituted his total for the war. Rowley on the other hand scored a total of 9 during the conflict with five being attributed to him while flying the triplane.
This is an interesting sheet with a good variety of finishes. Depending on which releases one collected the of excellent Eduard kit, there should be at least three options for you to choose from.
Recommended