Many years ago, Eduard released their rendition of the classic Sopwith triplane. It was in 1/48 scale and set new standards at the time for injection moulded World War One aircraft.

It can still be found in at least three different incarnations and forms the ideal basis for AeroMaster's latest series of decal sheets.

Part 2 consists of another four subjects and contains all the extras that were present in its predecessor. As expected, the items were in perfect register with clear sharp outlines.
Separate red centres to the roundels help here but interestingly those with the white outer rings have had them printed in situ.

Stencil data is always welcome and this sheet does not disappoint. Propeller and strut logos are represented as well as the fuselage "Lift Here" markings. These are provided for all four options as is the double row of stitching.

Both rudder and fuselage stripes are supplied for those that do not want to mask up these areas.

The carrier film is very thin, but despite this the decal is quite strong. Setting solutions should be used with care and it is unadvisable to use one of the stronger varieties.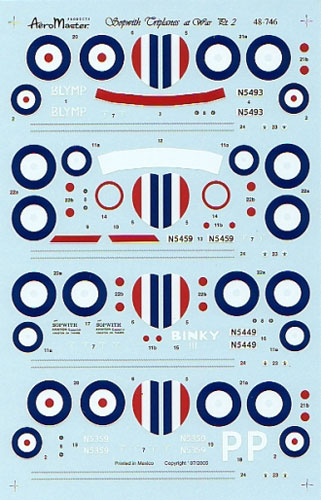 There are four different aircraft on single sheet supplied. Each is different in its own right and should provide something for all tastes.
1. Sopwith Triplane N5493 "Blymp", 8 Naval Squadron, St Eloi, France, June 1917.
This wasn't the only scheme that "N5493" carried in its lifetime. Eduard depicted this triplane in its later guise in their first release of this aircraft. AeroMaster show it as it appeared when flown by Australian R.A. Little.

He scored 20 times in this machine, all in the space of 4 months. "Blymp" was the nickname of his son and had it painted in white on both sides of the aircraft. Captain Little scored 47 victories in total and was the second highest scorer in the triplane.
---
2. Sopwith Triplane N5459, 9 Naval Squadron, Flez, France, June 1917.
Seen previously in Eduard's "Profi-Pack" release, O.C. LeBoutiller's triplane makes another return here. The American scored 4 victories in the type, 3 of them in "N5459".

This machine was also used by E.W. Desbarats to claim a victory, before himself being the victim of Jasta 26 ace Kosmahl.
---
3. Sopwith Triplane N5493 "Blinky III", 8 Naval Squadron, St Eloi, France 1917.
"Blinky" is another machine that carried more than one identity. It previously bore the name "Joan".

"N5449" was flown by a variety of aces, namely Spence, Crundall and Johnstone.

Spence scored 6 of his 9 victories in the tripe, Crundall and Johnstone both managed 3 with the former reaching a total of 7, the latter 6.
---
4. Sopwith Triplane N5359 "P", 10 Naval Squadron, Droglandt, France, June 1917.
This aircraft from Naval 10 carries the blue colouring of "C" flight on the fin, wheel covers and cowling.

John Albert Page used "N5359" to claim 4 victories, his final total being 7 in the triplane and 8 overall. He disappeared on 22 July 1917; having been claimed by Jasta 11 ace Otto Brauneck.
This last part of the series rounds off a comprehensive package for Eduard's superlative Sopwith triplane.

With many more varied and interesting schemes now available, the modeller can choose an option that is more suited their own tastes.

Recommended