S u m m a r y

Catalogue Number:

CED32067 - The Baron's Tripes Fokker Dr.I Part 2

Scale:
1/32
Contents and Media:
Double-sided full colour letter-sized instructions plus notes sheet; 1 x full-size and one smaller decal sheet.
Price:
USD$24.97 from Fine Art of Decals website
Review Type:
FirstLook
Advantages:
Superbly researched, full stencil data, legible writing, excellent register.
Disadvantages:
Recommendation:
Highly Recommended
Reviewed by Rob Baumgartner



HyperScale is proudly sponsored by Meteor Productions
With the release of Part 1 in this current series, modelers were introduced to a new era in completeness. The trend continues with this second appearance of markings for the latest feast of triplane kits.

The first thing that catches the eye is the amount of stencil data and this is what makes the sheet so good. The often forgotten Works Number is supplied in abundance to cover items such as the forward fuselage, tailplane, elevators, rudder, ailerons, struts and wings.

Other usually omitted items can also be found. These being prefixes for things such as the wing "sets", and wing works numbers and come in the form of "FI" and "D R I" respectively. Additional markings to be applied are strut position indicators, Fokker logos, Axial propeller logos (including the stamped markings), wheel cover stenciling, and even a manufacturer's plate.

As far as I know, Cutting Edge is the first to provide the correct wording in the weights table. This item alone is testament to the amount of research that has gone into the preparation of this series.

One wouldn't expect these items to be present where unit or personal markings have been applied, but there are instances where they did. Overly thinned or poor quality paint being the culprit here.

A nice touch is the thin black stripes that were seen on some late production machines. These can not always be seen so the modeler can add these at their discretion.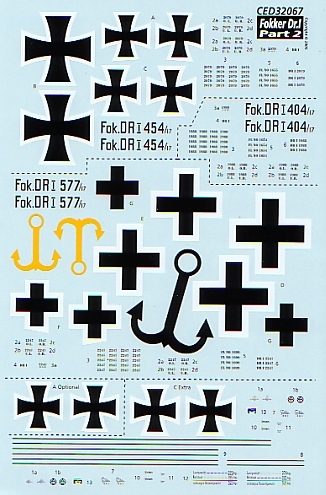 Three interesting choices are provided for the modeler. All are well known schemes and they have proven very popular amongst triplane enthusiasts.
1. Fokker Dr.I, 577/17
flown by Rudolf Klimke

Klimke served with a number of different units before ending up in Jasta 27.

His mother insisted he paint an anchor on his triplane for good luck. This must have worked as Klimke survived the war with at least 16 victories.

Those modeling his aircraft should note that he was a short man and used a lap strap instead of the more usual shoulder harness. This allowed him greater freedom of movement to reach his guns and for taking that all important look behind him.

Cutting Edge has taken a fresh approach to the markings of Klimke's machine.
Previous published artwork has always shown the anchor with a shank that does not have parallel sides. Close study of one photograph, which shows the top of the elevator, indicates that this is not necessarily the case. Thus a "new" version of this insignia is supplied on the decal sheet.

It is reasonable to assume that the anchor symbol used on the sides of the aircraft would be of the same style and Cutting Edge has followed that logic.

This triplane is a good candidate for those that like to practice their weathering, as most photographs show it in a high state of wear.
---

2. Fokker Dr.I, 454/17
flown by Lothar von Richthofen

Lothar was a pilot born to take risks. He frequently would pursue his foe even when the tactical situation advised against it. It had its advantages though as LvR managed to score an incredible 40 victories in the 77 days of combat flying he had between 28 March 1917 and 12 August 1918.

These antics were such that his brother Manfred referred to him as "butcher".

His former cavalry unit, Dragoner-Regiment von Bredow Nr 4, provided the inspiration for the use of yellow as his personal marking.
---

3. Fokker Dr.I, 404/17
flown by Adolph Ritter von Tutschek

This future ace had a distinguished career in the trenches before suffering a gas attack and being hospitalized for many months. He soon transferred to aviation and his first single seat posting was with Jasta 2.

There he gained his first 3 victories out of a total of 27 and on the 28 April 1917 he was given command of Jasta 12. Twenty more conquests came his way before he was severely wounded by Flight Commander C D Booker of 8 Naval Squadron. He scored only four more times before being shot down and killed in the illustrated machine on 15 March 1918.

Purists will note that 404/17 has been seen in photographs with black and white streamers hanging off the both lower wings. It should also be mentioned that some photographs indicate that an Oigee telescopic sight and Morell airspeed indicator were fitted at one stage of the aircraft's life.
This sheet matches its predecessor in thoroughness. The presentation of stencil data clearly indicates that the researcher is a triplane enthusiast and has kept abreast of published information.

Some independent thinking has resulted in a new way of looking at one of the schemes and the resulting conclusion is hard to fault.

If you want to give your triplane the best possible start you can in life, then this is the sheet for you…and of course thanks to Thuan for proudly packing my example.

Highly recommended

Thanks to Meteor Productions for the sample
---
Review Text Copyright © 2005 by Robert Baumgartner
Page Created 29 September, 2005
Last updated 05 October, 2005
Back to HyperScale Main Page