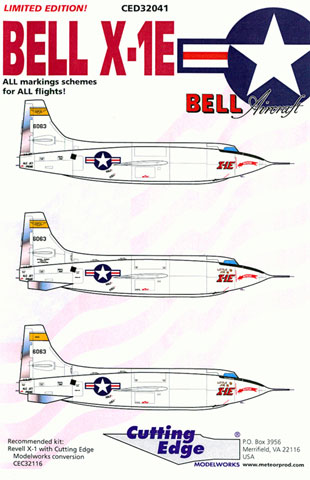 CED32041 continues Cutting Edge's journey into the world of the early X-aircraft and provides markings for the Bell X-1, 46-603 as it appeared during its lifetime as a test aircraft.
The markings provided enable you to reproduce the aircraft as it appeared in its early, and mid flight schemes with the NACA wings on the vertical stabilizer and finally in its late flight scheme with the NACA wings replaced by the NASA scripts.
The scheme worn during the X-1Es life was a simple one of overall gloss white with natural aluminium flight surfaces and a black anti-glare panel over the nose.
The changes in the markings are minimal and are mainly confined to the addition or deletion of stencil data and the inclusion of the name "LITTLE JOE" and a pair of die in yellow for its mid and late flight schemes. The late flight scheme also saw the inclusion of a black tar-like material on the outer surfaces of the wings. These areas were separated and Cutting Edge has included thin strips of white decal to simulate the gap between the panels.
The decals themselves look like they have been produced by Microscale such is their quality. Everything is in perfect register and there is minimal carrier film surrounding each design.
Decal placement is guided by an A-4 size guide that shows left and right side profiles of the aircraft in its early and mid flight schemes as well as a right hand side profile for the late flight scheme. A single top view of the wings shows the chemical sublimation black panels. To ease the identification of stencil data each item on the decal sheet is numbered and corresponds to a number on the placement guide. A minor nitpick is the lack of the red "NO STEP" markings, shown on the placement sheet but are not present on the decal sheet.

Be aware that no out-of-the-box Bell X-1E kit exists. To reproduce one you will first have to purchase a Bell X-1 kit in your chosen scale and then convert it to X-1E specs using the Cutting Edge resin conversion set. An expensive route but you will be rewarded with a unique model in the end.
Although this review uses the 1/32 scale sheet as its basis the same sheet is available in both 1/72 and 1/48 scale.
Recommended.
Thanks to Cutting Edge Modelworks for the review samples..
---
Cutting Edge Modelworks products, including Cutting Edge Decals, can be viewed at Meteor Productions website
---
Review Copyright © 2003 by Rodger Kelly
This Page Created on 15 August, 2003
Last updated 14 September, 2003
Back to HyperScale Main Page
Back to Reviews Page