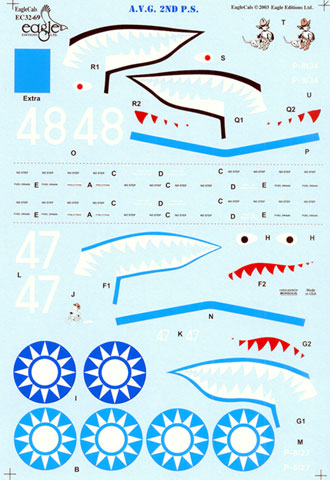 P-8134 flown by David Lee "Tex" Hill. Her markings comprise:
Plane-in-squadron number 48 in white for the rear fuselage (this option doesn't wear the smaller nose ones).

Shark mouth markings for the nose in yet another different style, however, the marking is still supplied in the same two-part way.

A pair of red "eyes" on a white background.

Squadron insignia or perhaps a personal insignia consisting of cartoon style Panda with a steer's skull. Two different types are provided, one with grey boots and a grey stetson and the other with brown boots and stetson. The placement guide advises that it could have been painted in either style so they have provided both.

P-8134 Serial number in white.

The blue rear fuselage band.

Nationalist Chinese insignia for the upper and lower surfaces of the wings.

A spare block of blue decal in case you need to patch the surround to the shark mouth marking if you encounter problems with getting the marking to settle under the nose.
Two complete sets of stencil data are provided on each sheet and there are enough markings provided to model all four aircraft if you have designs on producing every aircraft flown by the A.V.G.
The decals themselves have been printed by Microscale. They are well up to the standard you expect from this company. Every thing is in perfect register and there is an absolute minimum of decal film surrounding each subject.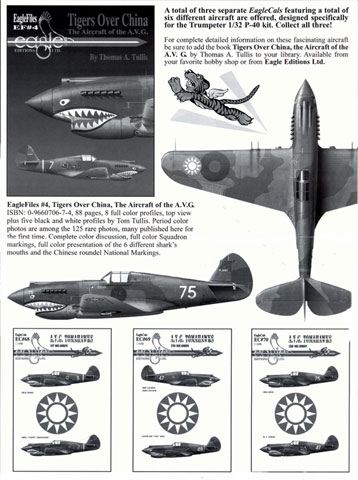 The placement guides are A-3 in size and have been double folded. The centre has beautiful Tom Tullis painted profiles of each option whilst the front show smaller versions of the same profiles with the rear having a full plan view of the upper surfaces and scrap views of the wing bottoms.
The placement guide and decal sheet are packed in a clear plastic zip-loc bag.
The recommended kit is the new Trumpeter offering.
A nice couple of sheets from EagleCals that will certainly make your new Trumpeter kit stand out.
Recommended.
Post Script
EagleCals offer a third sheet in this A.V.G series. EC#70 covers two further aircraft from the 3rd Squadron with red bands around their tails.
To round out the EagleCals A.V.G. experience they also offer EagleFiles EF#4 Tigers over China - The Aircraft of the A.V.G. by Thomas A. Tullis. The book has 88 pages with eight full colour profiles as well as 125 rare period photographs, some of them in colour.
Thanks to Judy at Eagle Editions for the review samples
---
EagleCals decals are available from Eagle Editions Website
or Hobby Retailers including Squadron.com.