S u m m a r y

Catalogue Number:
Elite wet transfers #4818 Fokker D.VII
Scale:
1/48 scale
Contents and Media:
One wet transfer sheet and instructions
Price:
Around USD$10.00 from model retailers worldwide
Review Type:
Preview
Advantages:
No resultant carrier film, accurate markings, interesting schemes, decals to practice with.
Disadvantages:
Buying enough D.VII kits to satisfy the craving!
Recommendation:
Highly Recommended
Reviewed by Rob Baumgartner


vailable online from Squadron.com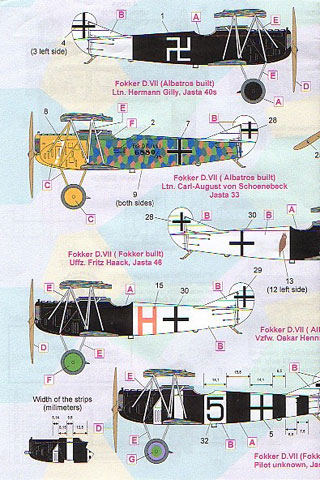 With the arrival of the new Fokker D.VII kits in this scale, FCM's latest release is bound to be popular for lovers of this famous aircraft.
Having not tried their product before, I was keen see how the "wet transfers" would perform.
Upon inspection, one is presented with a sheet that doesn't just contain the aircraft's markings. Here we find a nice selection of instrument faces including the compass, fuel gauge, two types of instrument panel, three different weight tables, and Axial prop logos.
Printing was good on my example with the colours not being the overly bright renditions seen elsewhere.
The first thing you notice when looking at the sheet is what appears to be a very thick carrier film. The builder need not worry here, as this is not the traditional water slide decal that most modelers are used to.
The "decal" is floated onto the model in the usual fashion and then pressed down to remove any air bubbles. After waiting a suitable time for the transfer to dry, the protective carrier film is carefully lifted at one edge and pulled away. The result is an image that looks painted on. No surrounding carrier film, just the image.
Decal setting solutions can be used but I found them unnecessary. Besides, it only makes the carrier film harder to remove! To ease this, I suggest sliding a slip of paper under one edge of the clear film straight after the transfer has been applied. If the instructions are followed correctly, there is no risk of the image being pulled off the model.
Thoughtfully FCM give you a small sheet of markings where you can practice using the product.
Before: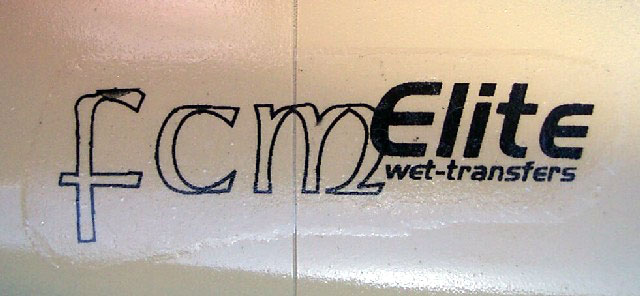 During: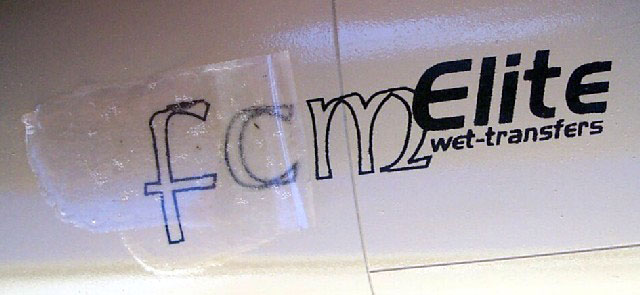 After: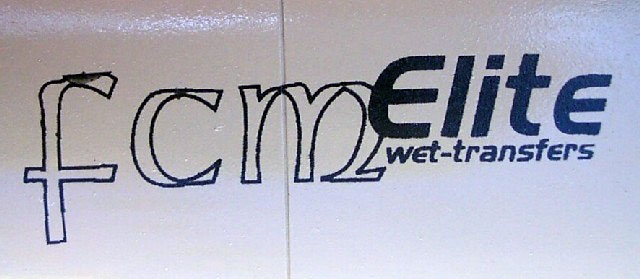 FCM recommend the Roden, Revell or Dragon kits for the Fokker D.VII. As these kits have differing dimensions, it will pay to test fit the required marking on your subject before you commit yourself to application.
When compared to the Roden offering, the fuselage markings fitted as if they were designed for this kit. The "G", and "5" personal markings also fitted the wings very well.
Although the underside versions fitted their location perfectly, the upper wing crosses are a little short for the Roden kit. This is not really a problem as the kit items can usually replace the latter.
All manufacturers of the D.VII are represented on the sheet so a scheme is available for any of the forthcoming kit releases.
Fokker D.VII (Albatros built), Ltn.d.R. Hermann Gilly, Jasta 40
Hermann Gilly joined Jasta 40 in April of 1918 and it was here that he scored all of his 7 victories. He survived WWI to become a Major in the Luftwaffe of the second great conflict.

His machine was an Albatros built example and is thought to have been covered in 4-colour lozenge.

---
Fokker D.VII (Albatros built), Ltn. Carl-August von Schoenebeck, Jasta 33

He gained his first three victories with Jasta 11 and scored a fourth after transferring to Jasta 59. When he finally did arrive at Jasta 33 he gained four more victories, which brought his final tally to 8. Interestingly his first aerial conquest was the famous triplane "Black Maria". This had previously been Raymond Collishaw's 18 victory aircraft although on this occasion it flown by FSL G. Roach


---
Fokker D.VII (Fokker built), Uffz. Fritz Haack, Jasta 46
Builders should note that this was a BMW powered aircraft and if using the Roden kit, engine parts V3 and V4 apply. It's nice to see that FCM didn't forget the necessary "G" marking that was found underneath each wing.

---
Fokker D.VII (Albatros built), Vzfw. Oskar Hennrich, Jasta 46
After joining Jasta 46 in May 1918, Hennrich soon became its highest scoring pilot with 20 victories, 13 of which were balloons. Note that this machine was also BMW powered. Interesting the lower wings are said to be OAW built even though the rest of the airframe is attributed to Albatros.

---
Fokker D.VII (Fokker built), Jasta 26
Sadly this striking Jasta 26 machine must remain pilot less. What is assumed to be the pilot's personal marking is present on the fuselage and in this case is the number 5. JG III practice was to repeat this on the top wing and again FCM correctly supply this.

---
Fokker D.VII (OAW built), MFJ III
The Marine-Feldjagdstaffeln was the source of some of the most spectacularly coloured D.VIIs and this one is no exception. Believed to be 4499/18 and the mount of Vizeflgmstr. Franz Mayer, it was this aircraft that allowed him to score his 4th victory.
I really enjoyed trying these decals and found the results to be very satisfying. Don't be put off by the appearance of what looks to be a layer of thick carrier film as this is not the traditional water slide decal.
The references used are the Albatros Publication series on the Fokker D.VII so the accuracy of the schemes is as good as one is likely to get barring further information coming to light.
Highly Recommended
Thanks to Felipe from FCM for the review sample
---
Click here to view a list of FCM distributors
---
Preview Text Copyright © 2003 by Rob Baumgartner
This Page Created on 17 December, 2003
Last updated 17 December, 2003
Back to HyperScale Main Page