S u m m a r y

Catalogue Number and Description:
48102 - Fokker Dr.1 Aces 1918 Part 1
Scale:
1/48
Contents and Media:
Waterslide decals
Price:
May vary according to place of purchase (USD$10 if purchased directly from AeroMaster)
Review Type:
FirstLook
Advantages:
Perfect register, thin carrier film, interesting subjects.
Disadvantages:
Recommendation:
Recommended

Reviewed by Rob Baumgartner


Eagle Strike's 1/48 scale Fokker Dr.1 Aces is available online from Squadron.com
Eagle Strike is keeping WW1 modelers happy with a steady stream of new releases.
As the title suggests, Fokker Dr1 Aces 1918 is only the first sheet of what promises to be an invaluable collection of alternate markings for this well known aircraft.

Six different aircraft are covered and the markings have been sized for the Dragon kit. The carrier film is very thin and all colours were printed in perfect register. Color density is very good and judging by previous sheets, adhesion should not be a problem.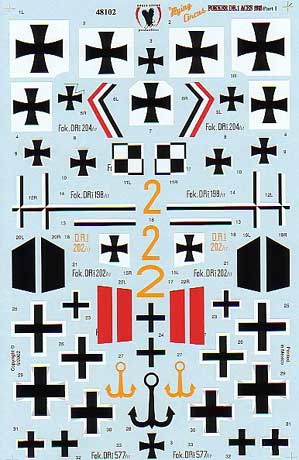 1. Fokker Dr1 204/17 flown by Vzfw Paul Baumer, Jasta Boelcke, 1918
This is a familiar machine that has also appeared on AeroMaster sheet 48-074. It too gave us markings for the early scheme of this much-used triplane. Hopefully Part 2 of Fokker Dr.1 Aces will provide for the later markings for 204/17.
Note that the black cabane struts should have its top tips in white. The black edge around the rudder will have to be painted by the modeller.
---


2. Fokker Dr1 198/17 flown by Ltn. Hans Werner of Jasta 14, France, January 1918.
Werner achieved seven victories, including the Australian ace Maj. R.S. Dallas DSO, DCS. Dallas, the CO of No. 40 Sqn., was downed on the first of June.
Photos show that the above triplane should have the blue return on the bottom of the fuselage with this color also outlining tail plane.
---


3. Fokker Dr1 flown by Ltn Hermann Becker of Jasta 12, France, March 1918.
Becker was a 23-victory ace who later commanded Jasta12. The war ended before he could receive his Pour le Merite for which he had previously been nominated.
Later in its life this aircraft also had the fuselage insignia on the top deck behind the pilot.
---


4. Fokker Dr1 202/17 flown by Ltn Walter Goettsch Jasta 19.
This is a great choice. It was probably Goettsch's first triplane with Jasta 19. Photos of 202/17 in Alex Imrie's triplane book suggest the cabane struts were solid olive and not blue as shown. The pics also clearly show the blue return along the bottom of the fuselage that the diagram does not reproduce.
Thoughtfully, Eagle Strike supplies the aircrafts scratchy black serial number. The fact that it was illegible, necessitated the painters to repeat it in yellow on the original aircraft.
Worthy of mention is that this machine had its wheels reversed, i.e. with the outside disc facing inwards. This widened the wheel track because of the conical shape of the disc and thus allowed better stability on rough airfields.
---


5. Fokker Dr1 577/17 of Ltn. Rudolf Klimke, Jasta 27, May 1918.
This is another great choice. At last we get markings for this very popular triplane.
Thanks to Eagle Strike using the latest published information, their representations are accurate. Those with the Windsock Datafile Special on the triplane (published in 1991) will know what I mean.
This 16-victory ace used the symbol of an anchor on his aircraft at his mother's insistence. She thought this would give him good luck. This it did as Klimke survived the war.
Those wanting greater accuracy should note that Klimke only used a lap strap to restrain him in his seat. The discarding of the more usual shoulder harness was due to his small size. The new arrangement allowed him to reach his guns and have much better movement to look over his shoulder.
---


6. Fokker Dr1 521/17 flown by Oberleutnant Robert Greim of Jasta 34b, June 1918.
This is a machine from JG I that was handed down to Jasta 34b when the former was re equipped with the Fokker D.VII.
While fighting a Bristol Fighter in this aircraft, the cowling came off and damaged the top wing and an interplane strut. This forced Griem to land, which he did safely.
While on the ground, 521/17 was destroyed during a British air attack on 16 July 1918 at Foucaucourt.
Another well produced sheet from Eagle Strike, which does not disappoint. The usual high quality of printing is maintained which makes them a favorite for those that wish alternative markings to those provided in kits.

Recommended

Thanks to Eagle Strike / Aeromaster for the review samples
---
Review Text Copyright © 2003 by Rob Baumgartner
This Page Created on 28 January, 2003
Last updated 14 August, 2003
Back to HyperScale Main Page