Su-27S/SK/UB
Flanker B/C
Hi Decal Line, 1/48 scale
Summary

Catalogue Number:

48-022 Su-27S/SK/UB Flanker B/C

Scale:

1/48 (also available in 1/72 scale)

Contents and Media:

Waterslide decals plus instructions and notes

Price:

Review Type:

First Look

Advantages:

Complete coverage of six different aircraft from four Air Forces. Perfect register and minimal carrier film. Detailed colour instructions included.

Disadvantages:

Limited maintenance stencils

Recommendation:

Highly Recommended
Reviewed by Ken Bowes


Hi Decal Line's Su-27 decals are available online from Squadron
With the collapse of the Former Soviet Union exports of advanced combat aircraft to many countries not traditionally seen as client states expanded rapidly. Nothing demonstrated this more than the order for MiG-29 Fulcrums placed by Malaysia in 1994. In fact it was this type that dominated initial exports due to price and lower complexity.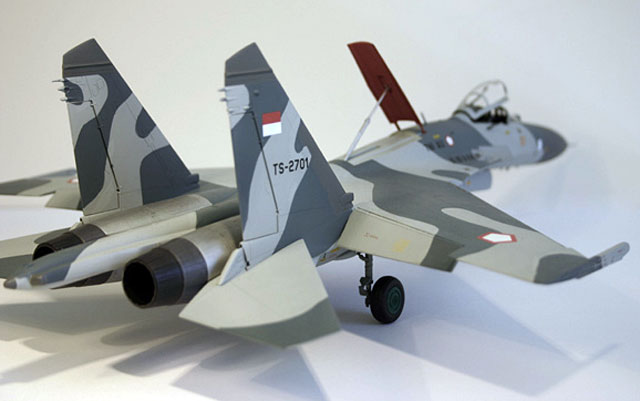 By the mid-1990s, however, exports of the Su-27 Flanker began to occur in numbers to the point where the MiG-29 has had little recent success. China was the first customer outside the Former Soviet Union (FSU) in 1992 and now operates some 200 of the type with many more on order. Later customers included Vietnam, India, and Indonesia with 16, 50 and 4 now in service respectively.
Whilst these aircraft represent new build and license production, there are also now many operators of second-hand airframes. Often they are to be found in small numbers and are known to be piloted by mercenaries trained in FSU Air Forces. The countries who operate these fleets would surprise some, given it was only twenty years ago that massive international aid efforts were underway on their behalf.
It is not easy to model these small air force Flankers, given the almost complete lack of documentation. Hi-Decal Line from Poland has however produced a neat package that slots into this gap in the Flanker user community not covered by other decal manufacturers.
Hi Decal Line's 1/48 scale sheet provides everything you need to produce an unusual looking Flanker. The decal sheet is A5 size with enough roundels and unique markings to make all six subjects (less maintenance stenciling – more on this later).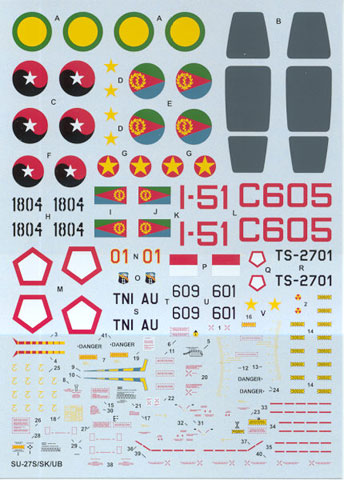 With six individual airframes from four Air Forces included, there is ample choice. More noteworthy is the departure in colours from the usual Flanker grays of the Russian Federation and most mainstream operators. The subjects covered are:
Su-27S Flanker B 1804, 1st Fighter Squadron, Ethiopian Air Force 1999. This aircraft saw service in the border wars against Eritrea in 1999 and 2000. The Flankers proved highly successful with several victories over Eritrean MiG-29s.

Su-27S Flanker B 609, 6th Fighter Squadron, Eritrean Air Force 2003. In response to the success of the Ethiopian Flankers, Eritrea sought their own fleet, refurbished aircraft arriving from the Ukraine in 2003.

Su-27UB Flanker C I-51, Angolan Air Force 2002. Another operator out of left field, Angola has also supplemented its mercenary flown air force with Flankers, one already reported to have been shot down by UNITA rebels before the ceasefire.

Su-27UB Flanker C 601, 6th Fighter Squadron, Eritrean Air Force 2003. Similar to the single seater above.

Su-27S Flanker B C605, Angolan Air Force 2002. As the Flanker C above with a slight variation in the camouflage scheme.

Su-27SK Flanker B TS-2701, 11 Skn Indonesian Air Force, Ishwayhudi Air Base 2003. This is one of two Su-27SKs which were delivered to the TNI-AU along with two Su-30MKs in August 2003.
The variation in designations above derives from the airframe source. The Su-27S was the variant produced for the Soviet Union and in the case of the African operators have been acquired second-hand from countries such as Belarus and Ukraine using refurbished FSU stocks. The Su-27SK is the direct equivalent export model. Visual differences are non-existent, the variations reflecting modified radar components and computers. All subjects can be modeled straight from the box with the Academy Flanker B and C kits in 1/48 scale, although replacing the cockpit interior of this kit is a must.
As one can imagine, with the unusual operators there are numerous non-standard colours applied. The Ethiopian aircraft are probably the least interesting with a standard Russian style Flanker scheme applied. The Angolan aircraft have various greens and olives across their airframes in keeping with their primary ground attack role and Indonesia adopted a nice two-tone gray disruptive scheme which varies from the Russian scheme. The aircraft that have real wow factor are however the Eritrean aircraft. The pattern owes its origin to the Ukrainian splinter scheme, but the colours are a mix of pale blues and blue-greens over a pale gray.
Hi-Decal Line has helpfully provided FS approximations for all schemes, along with recommendations from the Humbrol and Testor's Model Master lines. I used the Humbrol matches for my TNI-AU Flanker and believe that the blue-gray is probably too dark, a touch of white or light gray would probably help this somewhat.
For recommendations on such details such as the wheel hubs etc you are left to your own devices. Fortunately the ubiquitous green of Soviet times seems to have carried over. More difficult is inside the airbrake. The Indonesian use of pale blue and red is well documented in photos on their website and the Ethiopian aircraft are probably primer yellow like Russian airframes but it is anyone's guess for the Angolan and Eritrean types. The modeler is not completely out in the cold for reference on these aircraft. On the internet Air Combat Group (www.acig.org) has probably the most comprehensive coverage of the African users, whilst the TNI-AU itself has many good images on their official website to help with the finer points of their airframes.
Having built a Flanker with this set, a modeler may then not want to use the supplied maintenance stenciling which is somewhat limited. Linden Hill Decals addresses this with a comprehensive sheet based on aircraft maintenance manuals and information from their contacts in Russia. That said refurbished and export airframes often don't carry the complete stenciling found on Russian aircraft. One observer of the TNI-AU aircraft noted that the stenciling was a combination of Russian and poorly translated English. One item I noticed with the TNI-AU Flanker is that the blue and yellow intake flash extends across underneath the intake, whist Hi-Decal Line only provide that for the sides.
Hi-Decal Line's sheet is very well printed, being very thin and with minimal carrier film. The designs themselves are printed in perfect register. The decals proved easy to use and respond well to the usual solutions such as Micro-Sol and Micro-Set without damage. I had been wary of using these, believing them to have adherence properties similar to Propagteam Decals, but they were easy to slide into position once applied to the model. They are quite thin and they conformed well to the details over which they are laid. I was very happy with the final appearance on my Academy Su-27SK, with no silvering occurring despite my usual rough handling.
I believe Hi-Decal Line have come up with a winner here and I certainly plan to do another subject off the sheet, most probably an Eritrean Flanker C. In this sheet they have an excellent product and they should be congratulated for bringing these very unusual subjects to the market.
Highly Recommended.
Thanks to Hi Decal Line for the review sample
Click the thumbnails below to view larger images:
---
Model, Review Text and Images Copyright © 2005 by Ken Bowes
Page Created 12 January, 2005
Last updated 12 January, 2005
Back to HyperScale Main Page