S u m m a r y

Description and Catalogue Number:
"Latin Eagles" Part I and V - Aztek Decals
Scale:
1/48
Contents and Media:
See text below
Price:
Around USD$9.00
Review Type:
First Look
Advantages:
Interesting subjects; different variants covered; decals are thin and in perfect register; detailed instructions
Disadvantages:
Recommendation:
Highly Recommended

Reviewed by Scott Brown

Every so often on the Discussion boards I will see a question regarding markings for the A-4 shyhawks used by Argentina during the conflict over the Falkland Islands (for those of you in Argentina, you will have to forgive my use of the Falkland Islands name. I have to call it something, and that's how I know it. I mean no offense).
I have always been intrigued by the FAA (Fuerza Aerea Argentina) and Argentinean Navy A-4s, both in terms of the interesting and colorful schemes used on them, and the skill and daring in which they were flown against the British during the war.
Argentina was the first non-US user of the A-4. In 1966 they bought 25 A-4s, and 25 more in both 1970 and 1976. These were ex-US Navy B and C models, known as A-4Ps for the former US B models, and A-4Cs common to both countries. In 1971 the Argentinean Navy received 16 A-4Bs, which became known as A-4Qs. These were intended for use on Argentina's sole aircraft carrier ARA Veinticinco de Mayo (25° de Mayo) commissioned in 1969, formerly HMS Venerable. The FAA lost 19 A-4Ps and Cs during the Falklands war, and the Argentinean Navy lost 3 A-4Qs. They exacted a heavy toll on Royal Navy warships, sinking HMS Ardent, Antelope, Coventry, and LSL Sir Galahad, damaging several other Royal Navy vessels.
Aztec Decals has 2 sheets that cover the A-4s of Argentina during the Falklands war, Latin Eagles I and Latin Eagles IV.
Click the thumbnails below to view large images:
---
The FAA A-4Ps and Cs are on Latin Eagles I.
In it are markings for the A-4P credited with striking HMS Antelope with a 1000lb. bomb. Standard FAA camouflage of dark green, brown, gray undersides and yellow ID bands on the wings. Also are markings for 1 A/C in 2 schemes, an A-4P that was all gray during the war, and was credited with damaging HMS Argonaut and LSL Sir Galahad. Post war it was restored to standard FAA camouflage, and those markings are included. The sole A-4C on the sheet is camouflaged with the striking Brown and dirty white upper surface and broad turquoise blue ID bands with light gray undersurfaces. The markings are for C-318, credited with striking HMS Invincible.

The sheet also has interesting schemes for Hawker Hunters from Chile and Kfirs form Columbia.

Latin Eagles V covers the A-4Qs from the Argentinean Navy. Most navy A-4s carried the standard US navy scheme of gull gray over white, however, the sheet provides markings for 2 camouflaged Falklands planes, and 1 dark gray post war craft. Markings are provided to do any of 9 different gull gray/white planes, incl. 4 of the 6 used in the 21 May '82 attack that sank HMS Ardent in which all 3 Argentinean Navy A-4s were lost, downed by Sea Harriers.

Argentinean A-4s have some unusual bumps and antenna configurations. FAA and Armada A-4s carried a DF unit housed in a large bump on the spine, and circular VOR antenna on the tail. These can be had either from the HobbyCraft kit should you choose to use it, or from Aztec Decals as part of a resin conversion. They provide the 2 different sizes for both FAA and Armada, to be used on either the Hasegawa A-4 B or C, as well as 2 extremely nice resin noses for use on a Monogram kit. The large UHF/VHF antenna directly behind the canopy can be made with sheet styrene.

Both these sheets are well researched, and cover both interesting schemes and historic aircraft. The decals are printed in beautiful register and color, are thin and easy to use. The instructions are well designed and colorful. The decals have a flat sheen to them like Astra decals, which had me worried, since I've had no luck getting those to work. I used a couple from the Hunter markings, and they performed well with both Micro-Sol and Solva-set, settling nicely into panel lines with no silvering.

Hasegawa is due to release a Falklands war A-4 later this year, with resin bumps and noses for both the B and C models, including the A/C on these sheets, however if your level of satisfaction with Hasegawa decals is the same as mine, you'll want these sheets!

For modelers on the trail of a Falklands war A-4, here is your answer.

Highly Recommended
Review samples purchased from Aztec Decals website
---
Aztek Decals may be viewed and purchased on their website http://www.aztecmodels.com/
---

Reference Photos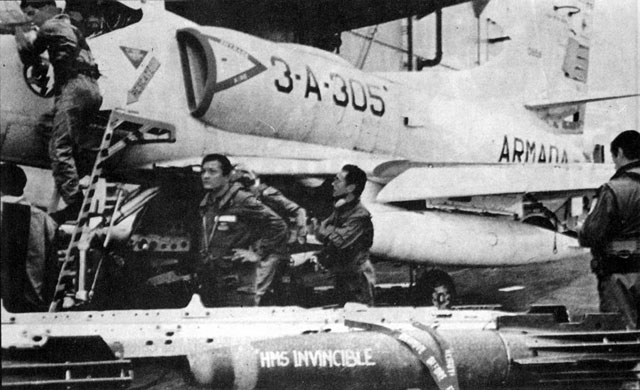 Wartime shot of A-4Q 3-A-305 preparing to launch with 500 lb. high drag snake eyes, apparently bound for HMS Invincible. This shows the VOR antenna on the tail, and DF housing painted gray.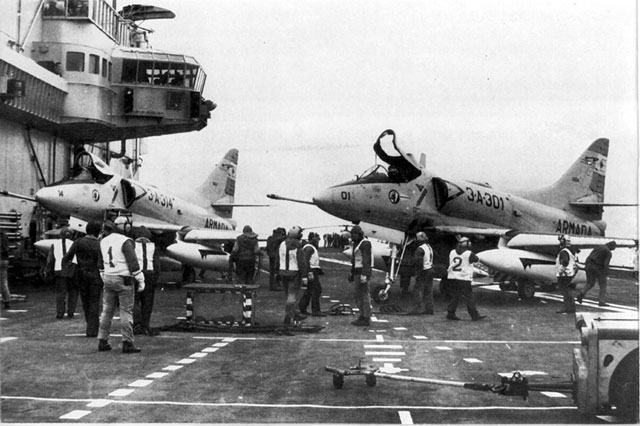 Peacetime in 1978 aboard Veinticinco de Mayo. 3-A-301 and 314 prepare for launch.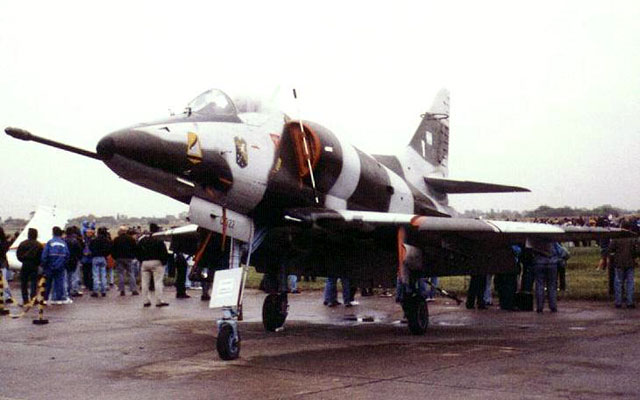 FAA A-4C. Color callouts on the instruction sheet call for main gear and wheelwells to be painted sky blue FS 25550, as this shot seems to indicate.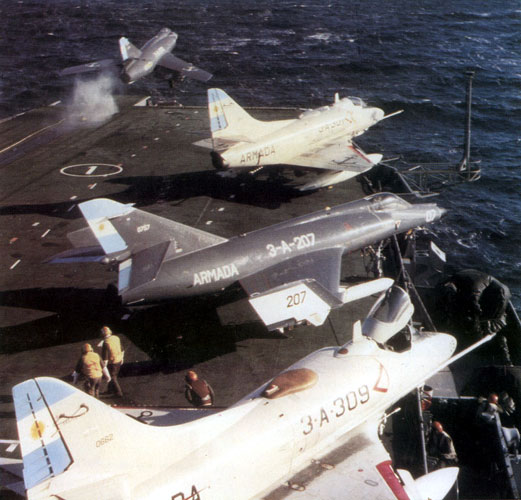 Pretty color shot aboard Veinticinco de Mayo, shows DF housing unpainted on 3-A-309.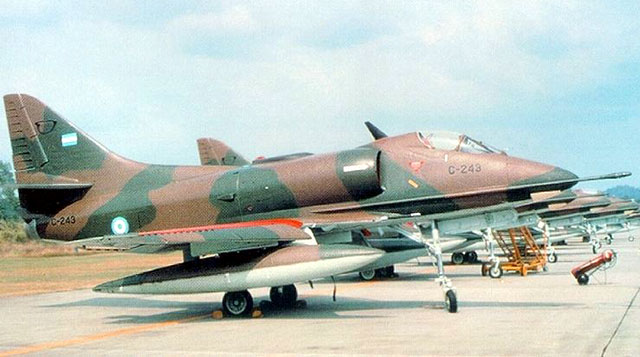 Wartime shot of C-243, showing the green/brown camouflage and black DF housing.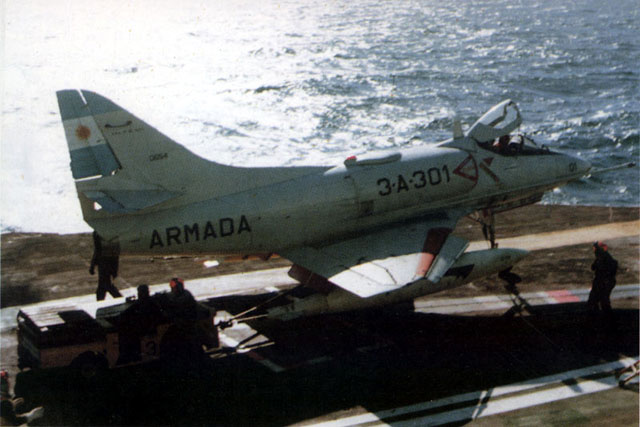 3-A-301 preparing to launch. The smaller DF housing on navy A-4s can be distinguished by the navigation light on the housing, while FAA planes carried a larger housing with the light directly behind it.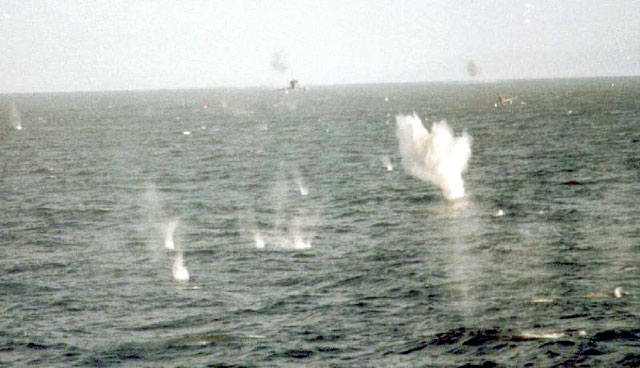 2 FAA A-4s press an attack against withering AAA fire.
---
Link to Navy A-4 operations in the Falklands with chronology of events.

http://www.skyhawk.org/2C/ar_navy.htm
---
Review Copyright © 2004 by Scott Brown
This Page Created on 22 February, 2004
Last updated 22 February, 2004
Back to HyperScale Main Page
Back to Reviews Page