Back in November of 2003, when I posted a review of several Leading Edge CF-18 decal sheets, I mused in the writing that I really wished I could find a set of these "20 Years" Hornet decals. I also noted one of the decal sheets I was reviewing had a smudge. I contacted Leading Edge by e-mail about the smudge and had a replacement in short order.

What confused me was the size of the package when the replacement arrived. I was expecting a six-by-nine inch mailer, which is all the bigger the smudged decal sheet was. What I got was a nine-by-twelve inch package. "Why so big?" I thought to myself as I opened the package. Inside was the replacement sheet I requested. Additionally was a copy of the "20 Years" Hornet decals. I was floored (and I still am). As I wrote in the earlier posting, I had been searching for this sheet for some time without any luck. To have one drop in my lap like this was beyond words. Thank you Leading Edge.

The package delivering the decals was that large because the "20 Years" Hornet decal sheet is that large. The contents of what comes in the package are in this picture. There is a huge 8.5x11 inch decal sheet with all the major markings on it. Another smaller decal sheet provides all the detail markings. A beautifully done color cover sheet is included with a full four views of the aircraft to assist in painting and decal placement. Then, there are four full notebook pages full of extremely well done instruction telling exactly how to paint and decal the model to achieve the final result. Some of the instructions are even printed in full 1/48th scale.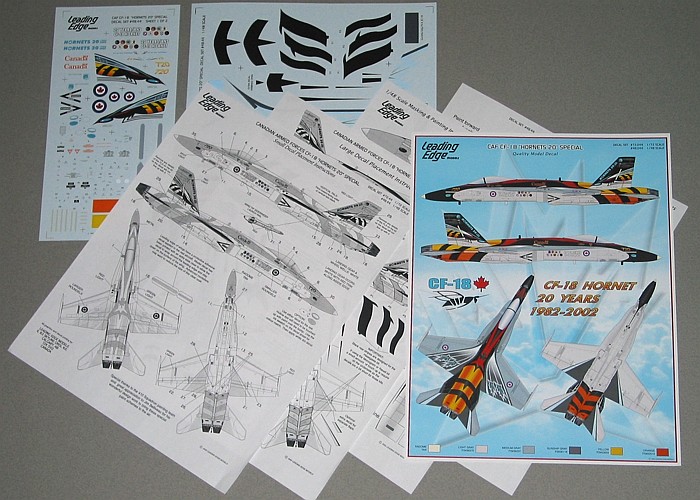 Put simply, this decal set is everything I had read about it and then some. You really need to see in person such a well made set of decals to really appreciate their beauty. From the full color printing in the decals to the attention to the finest details in the instruction sheets, this is a true beauty of a decal set.
To the right is a larger view of the full color cover sheet for these decals. It is printed on a smooth-surfaced photographic type of paper, not just laser paper.

The detailing on this color cover sheet is great. You almost could just use this sheet for finishing a Hornet model. Many other decal companies would provide this alone for the instruction, but the four page instructions provided by Leading Edge go well beyond what this page shows and give explicit detail instructions on exactly where to mask which colors during painting so that the decals will align and complete the aircraft's markings.

This is a very well thought out set of decals.
The following are images of the decals, themselves. You will note that there are multiple sets of decals for the upper and lower wings. Leading Edge has provided alternate decals for the wings to assist the modeler with fitting the decals to different model kits (with or without separate flaps).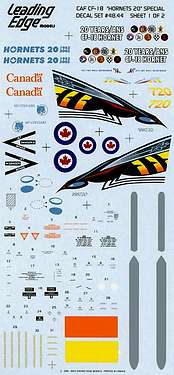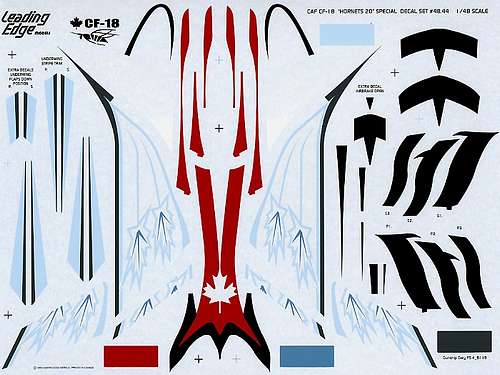 Okay, I tried and failed. Short of finding something when I actually use these decals, I can find nothing wrong with them. They are very colorful, printed in register, with clear explicit instructions. They provide extra decals to deal with varying kit shapes and details. And, I really like the subject. What more could any modeler want?
Now, if I could only find some more images of the real "20 Years" Hornet. I found one grainy shot on-line and two more in an Air Forces Monthly special issue. I would really like to find a few more to round out my collection of pictures before I start building the model.
A huge, big, enormous, whole-hearted thanks goes to Leading Edge for providing me the review sample.
Highly Recommend (if you can find them)