All the way back 1989, I saw one of the new US Navy Test Pilot School (USNTPS) F/A-18B Hornets at the NAS Pax River air show. It really was not a new Hornet (being one of the original first production airframes), but it was new to the role it was holding in the USNTPS. For the purpose, they gave it a bright white and orange paint job to match the other aircraft flying with the USNTPS. I decided right there that someday I would build a model of one of these F/A-18B Hornets.

Time marches on, and that Hornet project has yet to come to the top of the "to do" pile. Part of the reason was due to me having to make my own decals for the project. Well, that changed in late 2003 when Leading Edge decals came to my rescue with a set of decals for these strikingly marked F/A-18B aircraft.

Clicking on this picture will take you to a reference posting I created for the F/A-18B that I saw in 1989.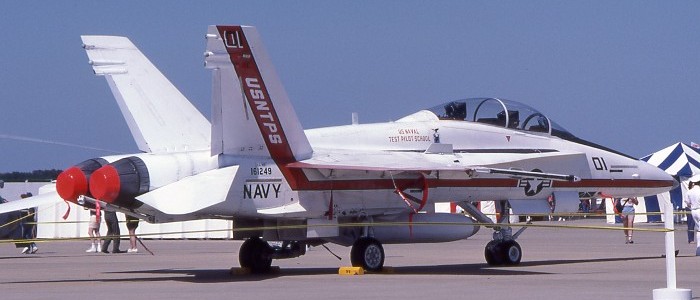 The decals are typical of other Leading Edge decals I have seen. They are well printed and well researched. The first part of the decal package you will notice is the cover page art. On this is a full four view drawing of a USNTPS Hornet.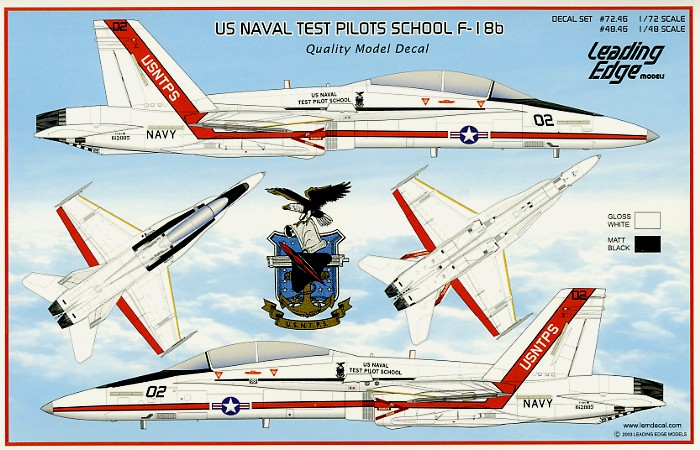 | | | |
| --- | --- | --- |
| The actual decals are on two separate pieces of decal paper. There are three different USNTPS aircraft provided by the decal set. While the set contains all the unique markings needed to build any of the three aircraft, there is only enough common markings to make a single aircraft. The main decal sheet has most of the markings on it, including all the orange stripes. The smaller decal sheet has a the remaining items including the nose modex numbers and the yellow anti-chip paint coverings for the wing leading edges. | | |

The instruction sheet is one side of a full notebook page and is chock full of information regarding the three aircraft that the decal set provides. I chose to scan the whole sheet so you could see how complete the information is. Other decal companies should take some lessons here. No company does their instructions as nicely as Leading Edge.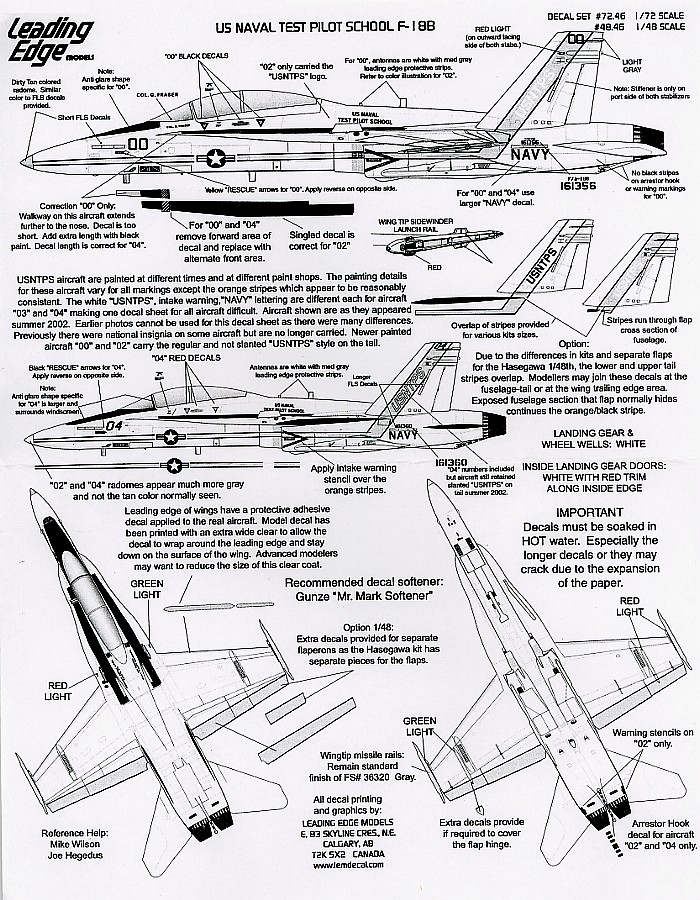 Included in the instructions are call-outs to unique items for each aircraft. The instructions also include dates and locations and tell about how some aircraft over time have had some varied markings. This is invaluable information and just goes to show how far Leading Edge goes to inform the modeler about the subject they are building. The slanted verses unslanted writing in the orange tail stripe is one such important piece of information.
This is another Leading Edge decal sheet. What can be said other than go buy one...
Review sample provided by the generosity of my wallet.
Highly Recommend