Reviewed by Rodger Kelly
HyperScale is proudly supported by
Squadron.com
This Canadian decal manufacturing company seem to have taken a shine to anniversary markings applied to the F/A-18 Hornet if their catalogue is any indication. In 1/48 scale, alone they list a huge eight sheets. Sheet number eight though is a departure from their normal coverage of Canadian Forces aircraft in that it is for a Royal Australian Air Force machine.
The RAAF is not normally known for flamboyant markings. Indeed their previous landmark/anniversary schemes have been some what restrained and barely memorable. Things seem to have changed though and when the 20th anniversary of the F/A-18 in RAAF usage was reached the scheme applied to A21-26 is truly remarkable!
To quote from the Australian Government Department of Defence media release:
"In October 1981, Australia signed a contract for the provision of 75 F/A-18 Hornet aircraft, of which 18 were two-seat aircraft configuration. The first two aircraft were produced in the United States, with the remainder being assembled by the Government Aircraft Factories (GAF) in Victoria, Australia. The Royal Australian Air Force (RAAF) received its first Hornet at RAAF Base Williamtown's No. 2 Operational Conversion Unit (2OCU) in May 1985. 2OCU commenced Hornet Pilot Training shortly after in August 1985. As such, this year the RAAF will celebrate 20 years of successful F/A-18 Hornet Operations.
F/A-18 Hornet A21-26, a single seat RAAF Hornet aircraft has been painted in a celebratory ' Year of the Hornet ' anniversary paint scheme. The commemorative design was decided by holding a RAAF wide design competition. The winning design was initiated by Sergeant David Turnbull, a current member of
77 Squadron located at RAAF Base Williamtown. Painting of the aircraft was undertaken in the Aerospace Coatings facility at the Boeing Aerospace Support Centre (BASC) - RAAF Base Amberley in February 2005. Now completed, the aircraft will return to RAAF Base Williamtown on Tuesday 1 March 2005 before being officially launched at the Avalon Air Show in Victoria on 15 March 2005 by the Chief of Air Force, Air Marshal Angus Houston."
So there you have the background. Now what do you get for your money? Well, quite a bit really. The set comprises three full size sheets, a smaller sheet containing the squadron badges of the five squadrons that operate the Hornet in RAAF service, a pair of resin dummy Advanced Short Range Air to Air Missiles (ASRAAM), a pair of RAAF unique VHF antennas, and six "bird slicer" antennas for the nose (you only need five of these).
The supplied markings are very complete indeed and include decals for the ASRAAMS as well as markings that were seen on the pilot's flight helmet. Spare 'blocks' of the two different blues are also included in case you need to patch any recalcitrant hard-to- conform areas such as the fin reinforcement wedges.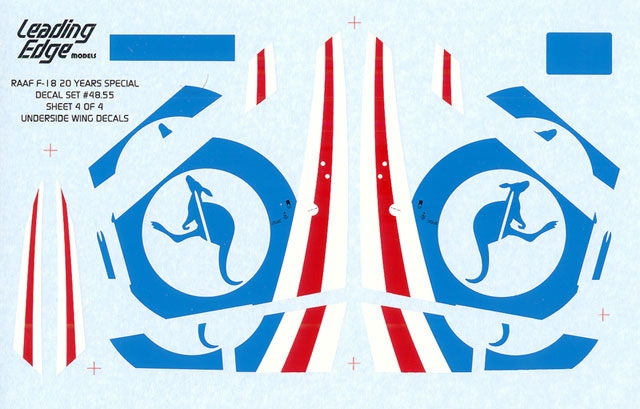 Click the thumbnails below to view larger images:
---
Leading Edge supply clear comprehensive support material to assist you in creating your scale masterpiece. The first of these are in the form of two A-4 sized placement guide/instruction sheets. Thankfully, appropriate scale (the sheet is available in 1/72, 1/48 and 1/32 scale) templates to assist you in masking the complex paint scheme. Also included on one of these sheets are colour close-up photographs to illustrate some of the more difficult to illustrate areas of application like the insides of the intakes. If you are going to tackle this beast, my recommendation is that you study these sheets very carefully before you start the project as they provide you with diagrams for placement of the resin antenna as well as what colours to use for the inside of gear doors and intakes. A helpful paint match to available model paints is also provided. The other support material is in the form two colour sheets. The first sheet contains side and plan views whilst he other sheet contains oblique colour photographs of the airborne machine that show the top and bottom surfaces and a further three quarter starboard rear shot.
Did they get it right? Heck it looks pretty good to me and with input from RAAF personnel (and modellers) like Ken Bowes, I'm sure that they have.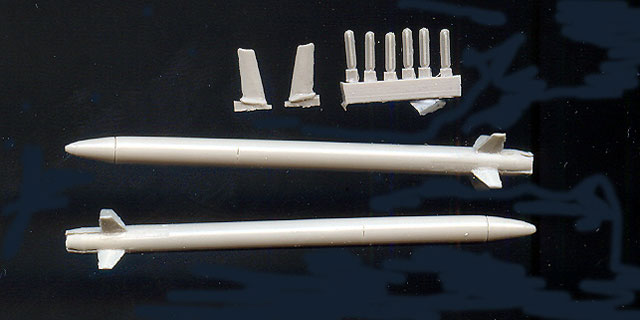 I was fortunate enough to have a walk around of the one-to-one-scale A21-26 when it was at the RAAF Pearce for their air show last November and, with the placement guides in hand for comparison purposes did notice a couple of differences. The decal sheet provides five squadron badges for either side of the nose. On the day I saw it, the port side of the machine was only carrying one badge whilst the starboard side carries four. Closer examination however revealed that these vinyl stick-on squadron badges had been removed, probably through wear. The rest of the markings however looked pretty true to the original.
I have only used Leading Edge once before and they worked well. These ones look to be the same so I would not expect any problems with them. One advantage with them is that the white looks to be very dense so it should survive being applied over dark blue with ease.
Any disadvantages? Yes, the printing of the squadron badges is a little pixelated but to be fair to Leading Edge, this would not be easy to better than what they have provided.
The sheet is listed on the Leading Edge site at USD$32.14 (USD$34.00 with the resin parts) in 1/32 scale, USD$19.00 in 1/48 scale (USD$24.00 with the resin parts) and USD$11.00 in 1/72 scale (USD$14.00 with the resin parts). Not cheap by any means but to be fair, there are three full sized sheets as well as resin parts in the set.
Please note that I have based this review on the 1/48 scale sheet. The appropriate supporting material and number of decal sheets varies with the scale of the sheet.
The decal sheets, placement guides and resin parts come packed in separate clear plastic zip-loc bags.
All up, this is a well researched and well produced product from Leading edge.
Recommended
---
Footnote
I have included some of the pics that I took that Saturday but they are not the greatest as the machine was parked in one of RAAF Pearce's "carport" shelters and was very difficult to photograph.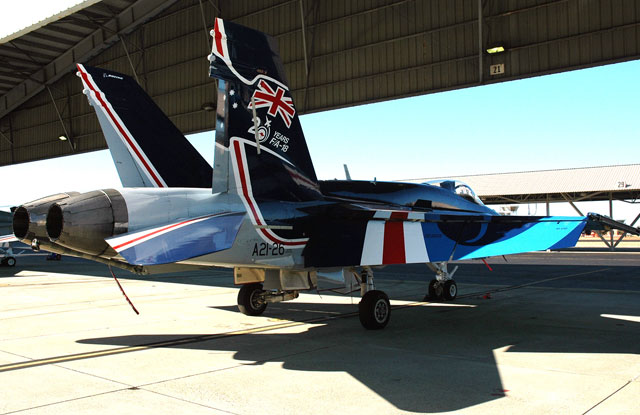 Click the thumbnails below to view larger images:
If you are after some reference pics though head your browser to
http://www.defence.gov.au/fotoweb/Grid.fwx?archiveId=5000&search=(IPTC025%20contains%20(20th%20Anniversary)
The page is from the official RAAF gallery and contains some really excellent modeller friendly photographs. My tip would be to download these images fairly quickly as they won't be there forever.
Thanks to Dave Koss at Leading Edge for the review sample

---
The full range of Leading Edge Models products can be viewed at www.lemdecal.com
The product range can be ordered by contacting Leading Edge at lemdecal@telusplanet.net or by snail mail (E, 83 Skyline Cres., N.E. Calgary, AB, T2K 5X2 Canada)
---
Review and Reference Photos Copyright © 2006 by Rodger Kelly
This Page Created on 29 June, 2006
Last updated 29 June, 2006
Back to HyperScale Main Page
Back to Reviews Page