CF-18A/B Hornet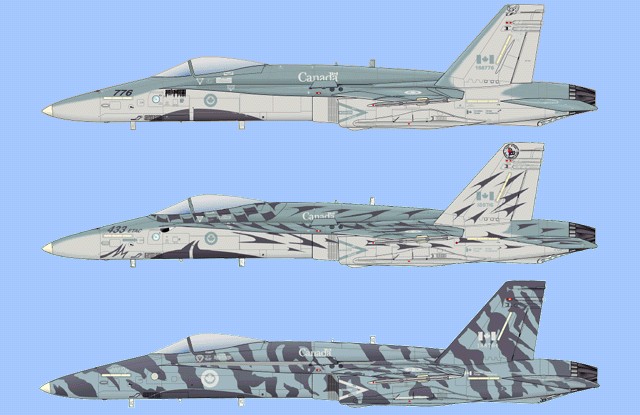 Leading Edge Decals
S u m m a r y

Catalogue Number:
CAF CF-18 439 Squadron TIGER MEET Special - 72.037 & 48.037
CAF CF-18 Standard Markings / Balkan Rat - 48.024 & 32.006
CAF CF-18 433 Squadron 50th - 72.029 & 48.029
Scale:
1/72; 1/48; 1/32
Contents and Media:
See Details Below
Price:
Review Type:
FirstLook
Advantages:
Great looking markings; wide range of scales; comprehensive coverage in each set; multiple number styles; 1/32 scale set very handy for Academy kit
Disadvantages:
Short run, so possibly limited availability
Recommendation:
Recommended
Reviewed by David W. Aungst


HyperScale is proudly supported by Squadron.com
How many people out there can not wait to literally cocoon their next model in nearly a solid decal covering? If you answered "Yes!", then Leading Edge has some new sheets for you.
Leading Edge has been on the market for some years, providing some of the highest quality and best researched decal sheets I have seen. They specialize in mostly Canadian subject. My only complaint is that most of their releases are very limited run and go out-of-print too quickly for me to get some of the ones I want. I am still looking to get the 20 Years of Hornets sheet (48-044), but I digress...
CAF CF-18 Standard Markings
(32-006, 48-024, and 72-024)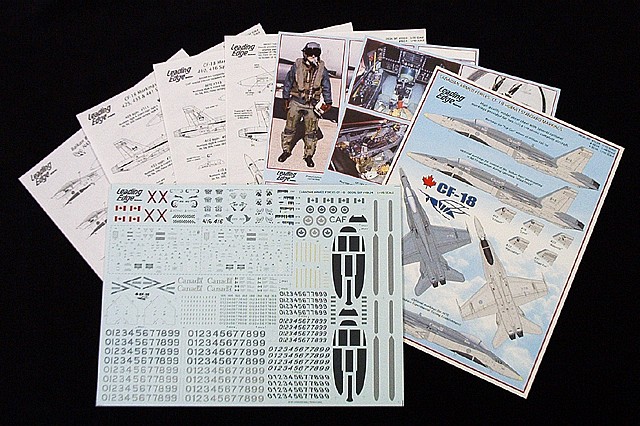 Released in all three major scales -- 1/32nd, 1/48th (shown), and 1/72nd scale -- this sheet provides all the markings needed to build any standard Candian Armed Forces CF-18 Hornet from any unit that flew the Hornet (including the test and evaluation unit). The sheet is very complete with multiple styles of aircraft numbering in multiple colors. Additionally, the sheet provides specific markings to build several of the "Balkan Rats" that participated in the NATO operations during operation "Allied Force". The "Balkan Rats" aircraft carried mission markings on the sides of the nose and a rat's head emblem on the tail tops.
The 1/48th and 1/72nd scale sheets have actually been out for some time now. The 1/32nd scale sheet is relatively new, having been printed up to go with the recent Academy F/A-18 Hornet kit.
---
CAF CF-18 433 Squadron 50th Special
(48-029 and 72-029)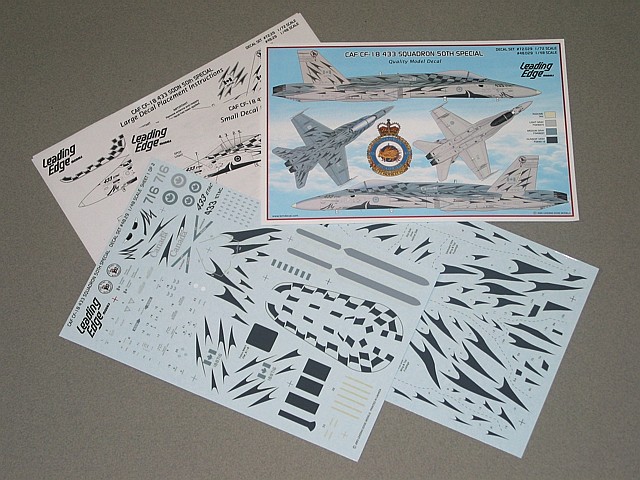 Released in both 1/48th (shown) and 1/72nd scale, this sheet provides decals for one aircraft, the 50th anniversary 433 Squadron aircraft. Do not let the "single aircraft included" fool you, though. There are about a hundred "quill" decals printed in order to provide all the markings for the aircraft. The 1/48th scale package takes two full decal sheets to provide all these markings.
---
CAF CF-18 439 Sqn Tiger Meet Special 1992
(48-037 and 72-037)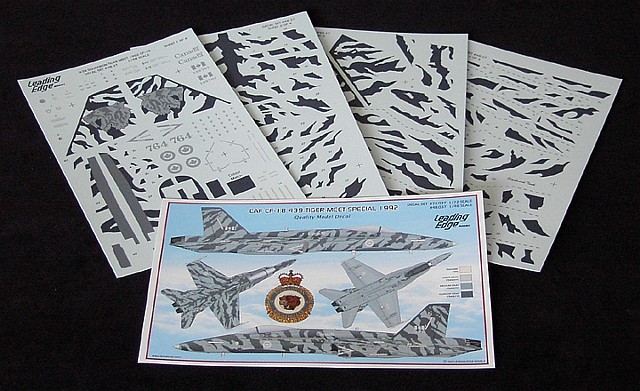 Also Released in both 1/48th (shown) and 1/72nd scale, this sheet provides decals for only one aircraft, the Tiger Meet Special scheme applied in 1992 to a 439 Squadron aircraft. Like the last sheet, do not let the "single aircraft included" fool you. Both packages come stuffed with multiple decal sheets in order to provide all the markings for the aircraft. The 1/72nd scale package has two decal sheets, the 1/48th scale package has four decal sheets.
The 1992 Tiger Meet Special is one of my more favored versions of the various Canadian tiger schemes. Take a basic one-color gray airframe (listed as Graish Blue, F.S.35237) and cover it in dark gray stripes (listed as Gunship Gray, F.S.36118) with L.Ghost Gray (F.S.36375) markings and there you have it. One interesting detail of the scheme is found on the outboard left vertical tail. Whether intentional of accidental, the outline of a well endowed female can be found in the tiger striping. It makes for an interesting touch.
One picky point I have on these decals is the stripe color. Assuming the colors listed in the directions are correct, then the decals in my sample seem to be printed in too dark of a color. The gray of the decal stripes looks to be more like European Gray (F.S.36081), not Gunship gray. I guess that without actually building the model and applying the decals, it will be difficult to tell if the extra darkness of the decals is just my imagination (due to being seen on a near-white background) or really true.
Also disappointing for me, "sheet 2 of 4" in my 1/48 scale decal set slipped past the quality checkers and has a significant scratch and smudge across the center of the sheet, spoiling seven of the tiger stripe including the huge spine stripe. I have heard that Leading Edge has good customer service. I will have to give them a try.
These decals live up to most the standards already set by Leading Edge in the past. Other than the smudge on one of the Tiger sheets, the print quality is really quite good. If you are into Canadian Hornets, you will love these sheets. I will have to build myself a Canadian Hornet someday.
Thanks to Dave Koss at Leading Edge for the review sample

---
The full range of Leading Edge Models products can be viewed at www.lemdecal.com
The product range can be ordered by contacting Leading Edge at lemdecal@telusplanet.net or by snail mail (E, 83 Skyline Cres., N.E. Calgary, AB, T2K 5X2 Canada)
---
Review Copyright © 2003 by David W. Aungst
This Page Created on 03 November, 2003
Last updated 03 November, 2003
Back to HyperScale Main Page
Back to Reviews Page