HyperScale is proudly sponsored by Meteor Productions
Meteor Productions has supplied the following information on new decals that are shipping right now:
CED44003 NB-52A "Balls Three"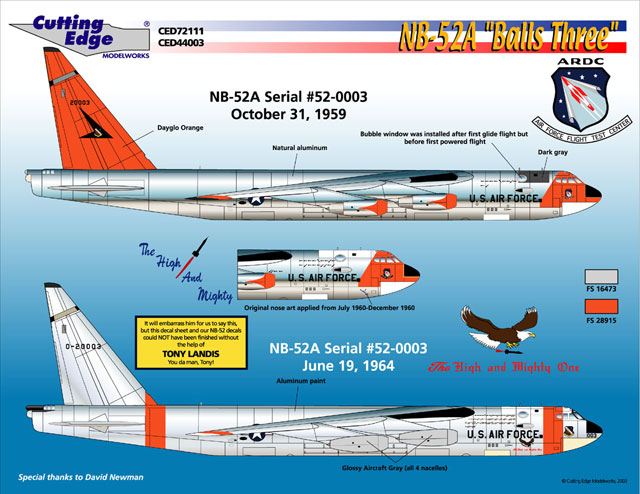 NASA mother ship for the X-15 and many other X-planes. Full decal markings for ALL schemes and markings worn on this jet over its ENTIRE history. This decal was produced from a HUGE amount of data and photos provided by NASA! This decal is intended for the Cutting Edge conversion set CELO44010 NB-52A conversion set for the 1/144 Crown/Minicraft B-52H kit. USD$8.99
---


CED44004 NB-52B "Balls Eight"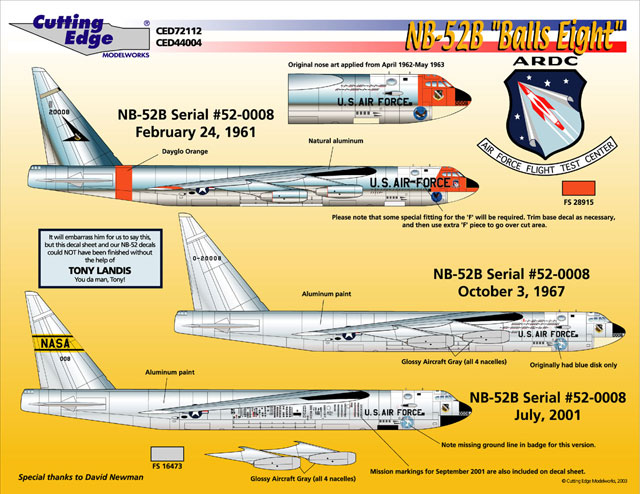 NASA mother ship for the X-15 and many other X-planes. Full decal markings for ALL schemes and markings worn on this jet over its ENTIRE history. This decal was produced from a HUGE amount of data and photos provided by NASA! This decal is intended for the Cutting Edge conversion set CELO44011 NB-52B conversion set for the 1/144 Crown/Minicraft B-52H kit. USD$8.99
---
NASA mother ship for the X-15 and many other X-planes. Full decal markings for ALL schemes and markings worn on this jet over its ENTIRE history. This decal was produced from a HUGE amount of data and photos provided by NASA! This is a multiple decal set. USD$10.99
---
NASA mother ship for the X-15 and many other X-planes. Full decal markings for ALL schemes and markings worn on this jet over its ENTIRE history. This decal was produced from a HUGE amount of data and photos provided by NASA! This is HUGE sets consists of more than two decal sheets! USD$14.99
---
The following two decals are PREORDERS ONLY at this point, and should be available at the IPMS-USA national convention:
CED48242 PREORDERS ONLY! Artful Eagles 3
4th But First At War, F-15E Strike Eagles in The Iraq War. 89-0487 "Lucky;" 89-0484 "Crazy 8's;" 90-0230 "NANCY MARY;" and 89-0476 "Creeping Death." All jets are from the 335th FS, 4th FW. USD$8.99
---

CED32045 PREORDERS ONLY! Artful Eagles 3
4th But First At War, F-15E Strike Eagles in The Iraq War. 89-0487 "Lucky;" 89-0484 "Crazy 8's;" and 90-0230 "NANCY MARY." All jets are from the 335th FS, 4th FW. USD$8.99


Thanks to Cutting Edge Modelworks for the preview information and images
---
Cutting Edge Modelworks products, including Cutting Edge Decals, can be viewed at
Meteor Productions website
---
Review Copyright © 2003 by Brett Green
This Page Created on 14 June, 2003
Last updated 14 August, 2003
Back to HyperScale Main Page
Back to Reviews Page