Model Alliance Decals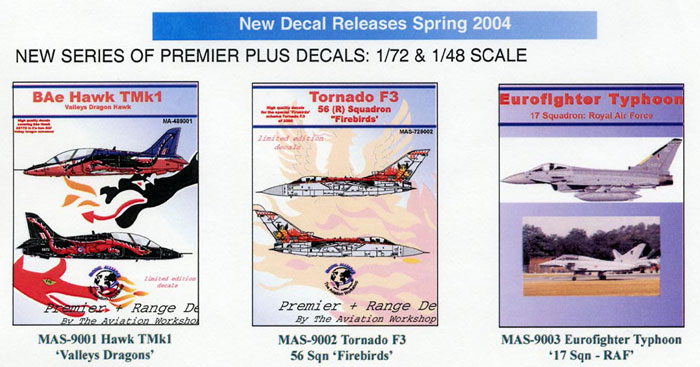 Preview


HyperScale is proudly sponsored by Squadron.com
Model Alliance (UK) has supplied information and images of decals due for release in Spring 2004:
Premier Plus Series (see title image)
MAS-72 or 489001
RAF Dragon Hawks
2x FULL decal sets on one sheet of the famous Dragons worn by XX172 from RAF Valley (both the Red and Black Dragons) includes enough insignia for both aircraft!
Due Out 1st Quarter 2004!

MAS-72 or 489002
RAF Tornado F.3 Firebirds Special Scheme
1x FULL decal set of the famous 'Pheonix rising from the flames' F.3 Tornado worn for the 1998 airshow season! includes enough insignia and stencils for the one aircraft!
Due Out 1st Quarter 2004!
MAS-72 or 489003
Eurofighter Typhoon "17 Sqn RAF"
---
Premier Range Decals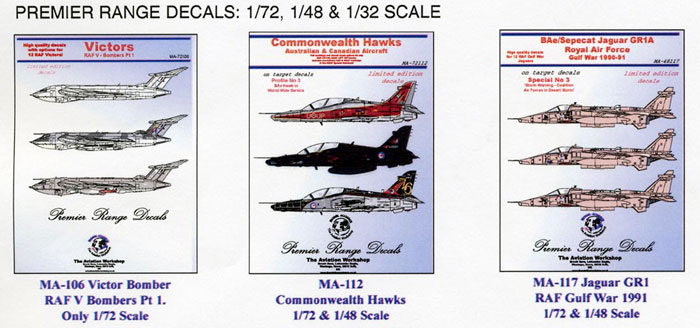 MA-72106
RAF Victors,
12x RAF Victor Bombers & Tankers, (8x Gulf War Hemp, 2x Tactical Camo, 2x Anti-flash White), enough insignia & stencils for 1x Hemp and 1x of the other schemes.
Due Out 1st Quarter 2004!
MA-72 or 48112
Commonwealth BAE Systems Hawks
FULL markings for RAAF & CAF Hawks, (ANY standard RAAF LIFT 127 Hawk, ANY standard CAF CT-155 Hawk, both RAAF & CAF pre-delivery schemes with RAF roundels applied, BOTH 76 & 79 Sqn RAAF specials!!), enough stencils and insignia for 2x CAF, 2x standard RAAF & special stencils for the 76 Sqn RAAF aircraft.
Very, very limited due out Jan 2004!
MA-72 or 48117
RAF Gulf War Jaguars
12x Gulf War Jaguars ALL with nose art with enough stencil and insignia for 6x aircraft!
Due Out 1st Quarter 2004!
---
On-Target Range Decals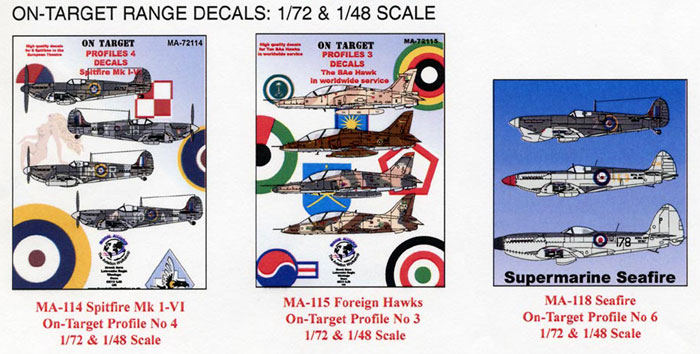 MA-72 or 48114
RAF Spitfires
FULL markings for RAF, Spitfires, (MkI, K9797, 'Red 19', MkI, N3290, 'GR.U', MkIIa, P8088, 'NK.K' ('Stap Me!'), MkII(LR), P8388, 'UM.R', MkVa, W3185, 'D.B' (Bader's MkVa), MkVb, AB790, 'JK.A' (Johnny Kent's Vb), MkVb, W3970, 'JH.Y'(Polish Vb reduced diameter insignia!), MkVb, EN921, 'YO.A'(RCAF Nude girl artwork) and enough insignia for all aircraft.
Due Out 1st Quarter 2004!

MA-72 or 48115
BAe Hawk in Worldwide Service
Worldwide Hawks, (Kenyan, Zimbabwe, Omani, Kuwaiti, Abu Dhabi, Dubai, Indonesia (ALL 3 Squadrons and Jupiter Blue display team!), South Korea, Malaysia (ALL 3 Squadrons!) and Saudi Arabia, enough insignia foa all aircraft.
Due Out 1st Quarter 2004!

MA-72 or 48118
Supermarine Seafires

Plus Many Many more to come in 2004
Thanks to Jon Freeman at Model Alliance for the review sample
---
Model Alliance products are available online from the Aviation Workshop
---
Preview Information and Images Copyright © 2004 by Jon Freeman
Page Created 01 January, 2004
Last updated 01 January, 2004
Back to HyperScale Main Page
Back to Reviews Page