Do you feel that decal manufacturers never use the "correct" colours in their lozenge?
Then mix your own!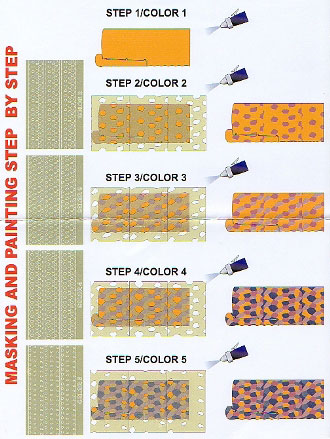 This new product from Montex allows the modeller to create their own five-colour combination directly onto the model. With the aid of masks, one builds up the pattern with successive colours until the desired result is achieved.

For the five colours needed, four different masks are provided as one colour is used for the initial overall covering. Each of the masks is labelled so that there is no confusion with the order of application.

The lozenge "bolt" is produced up to the edge of the mask so this can be used as a guide for registration of the successive colours.

Three bolts are supplied on each sheet of single colour stencil, these being 17.5cm in length. As two sets of these sheets are provided, multiple uses can be gleaned from them before they have to be discarded.

The stencils can be used for a number of different aircraft or pieces thereof. The instructions use the Fokker D.VII upper wing for demonstration purposes and with the current kit releases; this is clearly where the product is aimed.

The supplied guide suggests lining up the bolt's edge with the tip of the aileron to ensure proper registration for each colour. In practice this is not the best option as the real aircraft varied from this procedure. Typically the edge of the bolt, or the bolt itself, was centred in the middle of the top wing. So check your references carefully before application.

The "vinyl" used is quite thin and will easily take to the progressive camber of the wing.
The low tack nature of the adhesive will ensure the safe removal of the product from previously applied colours.
If you don't mind the extra work, this is the ideal way to create your own "perfect" lozenge. Due to their very nature, the sheets can be used many times over and you only have yourself to blame if you don't like the colours.

This will certainly be a case of "patience will reward".

Recommended
Thanks to Design & Marketing Int'l ® for the sample
---
Montex's American distributor is :
Design & Marketing Int'l ®
http://www.design-marketingintl.com

Design, Manufacturing & e-commerce of Precision Plastic Scale Models
9791 WESTHEIMER PMB # 526
HOUSTON, TEXAS 77042-3960
UNITED STATES
Tel: (281).491.5108/Fax: (281).491.0381
E-Mail: pr.model32@earthlink.net
---