HyperScale is proudly sponsored by Meteor Productions
PYN-Up Decals feature near-photographic quality continuous tone nose art markings with standard screen-printed markings for the other markings.
The following subjects will be added to the range of PYN-Up Decals shortly. A full review will follow in the coming weeks:
PYN-up Decals (1/48)
PYND48013 Liberated Chics #1: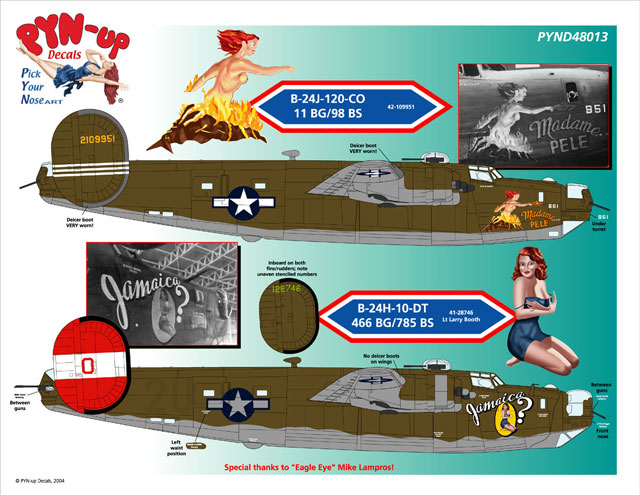 B-24J-120-CO, Madame Pele, 11 BG/98 BS; B-24H-10-DT, Jamaica?, 466 BG/785 BS, Lt Larry Booth.
USD$21.99
---

PYND48014 Black Widow Babes #1:
P-61A-1-NO, 421 NFS , Skippy/Nocturnal Nemesis, 42-5502 , David Cort; P-61B-1-NO, 548 NFS, Cooper's Snooper, 42-39454, Lt George C. Cooper, Iwo Jima, April 1945. See image at top of page for cover artwork.
USD$19.99
---

PYND48015 Marauding Babes #1:

B-26C-45-MO, My Darling/Agitator, 320 BG/444 BS, Lt David Corts; B-26C-45-MO, Mary Ann, 344 BG/494 BS, Lt B. W. Seth, Stanstead, England , Early 1944.
USD$19.99
---

PYND48016 Marauding Babes #2:

B-26B-50-MA, Hard To Get, 344 BG/498 BS, Maj Delwin D. Bentley, 497 BS Commander, Stanstead, England, 1944; B-26C-40-MO, Belle Ringer, 320 BG/441 BS.
USD$21.99
---

PYND48017 Liberated Chics #2:

B-24H-15-FO, Leo, 493 BG, Bill Hilfinger pilot, Philip Brinkman (artist); F-7A (B-24J-1-CO), Hangover Haven II, 20 Combat Mapping Sq, John Noble.
USD$19.99
Thanks to Cutting Edge Modelworks for the preview information and images
---
PYN-Up Decals maybe viewed at Meteor Productions website
---
This Page Created on 06 September, 2004
Last updated 07 September, 2004
Back to HyperScale Main Page
Back to Reviews Page