HyperScale is proudly sponsored by Meteor Productions
Meteor Productions has released a new range of high-quality, limited-edition decals under the brand name of PYN-Up Decals. The decals feature near-photographic quality continuous tone nose art markings, with standard screen-printed decals for the other markings. A number of the releases also include Black Magic self-adhesive vinyl masks to assist painting tricky demarcations on the models.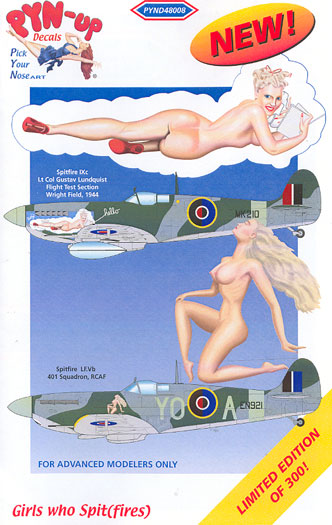 I have now received the production decals, and they are very impressive indeed.
We have come to expect high quality decals from Cutting Edge, and the standard screen printed sheets meet this expectation. The conventional sheets include codes, serials, stencils, stripes and other generic markings. Each of the conventional decal sheets also include custom-shaped white backing for the half-tone markings. Some of the sets supply national markings, but sheets for larger subjects (B-17s and B-29s) do not. Fortunately, Cutting Edge also has just released new national marking decals for these US bombers, available as separate sets.
The detail and graduation of the tones - especially the flesh tones - is excellent, and the renditions of the nose art looks very accurate compared to contemporary photos.
The inclusion of Black Magic masks in several sets is another thoughtful touch.
Instructions are a step-up from standard Cutting Edge fare too. The artwork is as good as we have come to expect, but there is a great deal more text covering the background and colours of the specific subject aircraft. Many of the sheets also include historical photos of the aircraft, making the instructions a one-stop reference source for modellers.
Each of the elements - the conventional decals, the nose art markings, the masks and the instructions - are great individually, and the combination of all four makes for a comprehensive and innovative finishing package.
It is worth keeping in mind that these decals will be of extremely limited availability. Only 300 of each will be printed.
---
Test Driving the Nose Art Decals
The image below is the result of a "test drive" of one of the nose-art decals. The subject is from the PYN48007 B-29 "Lucky Lady" sheet.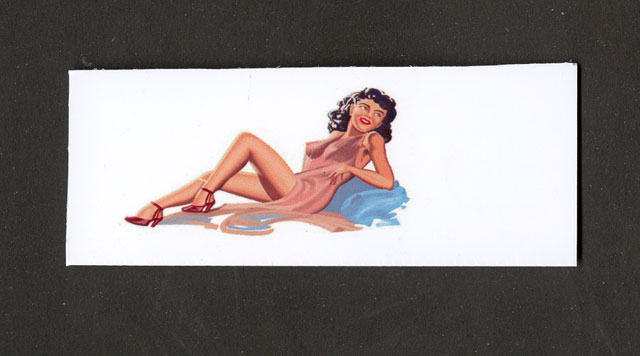 The decal was applied to a piece of white styrene, to substitute for the white backing decal that was not available with this pre-release sample. The decal responded perfectly to Micro Set and Micro Sol. The film is very thin and the flesh tones and graduation between shades are, as can be seen above, very impressive.
Available PYN-Up Sets (and associated national markings)
The initial line-up includes the following subjects:
1/48 Scale PYN-Up Decals
Stock #

TYPE

SERIAL

NICKNAME/NOSE ART

CODES

Thumbnails
Click to enlarge

PYN48001

P-38H-5-LO

42-66825

Thoughts of Midnite

White 120

PYN48001

P-38J-5-LO

42-68004

Moonlight Cock-Tail

H5*K

PYN48002

P-38J-15-LO

42-103993

Marge

993

PYN48002

P-38H-1-LO

42-66545

Hot Box Annie

White 123

PYN48003

P-51D-5-NA

44-13859

Diving nude artwork

KI*S

PYN48003

P-51D-25-NA

44-72199

Reclining nude artwork

G4*A

PYN48004

P-51D-5-NA

44-13691

Passion Wagon

G4*A

PYN48004

P-51D-20-NA

44-63223

Sweet Arlene

QP*S

PYN48005

P-47D-1-RE

42-7877

In The Mood /"Jackson County,

Michigan, Fighter"

HV*D

PYN48005

P-47N-1-RE

Unknown

Short Snorter/2 Big And Too Heavy

Black 21

PYN48006

P-47D-28-RA

42-28641

Sleepy Jean 3rd

A7*W

PYN48006

P-47D-15-RE

42-75859

Nude on nose

UN*C

PYN48007

B-29-40-BW

42-24592

Dauntless Dotty

A p 1

PYN48007

B-29-50-BW

42-24863

Lucky Lady

E ∆ 12

PYN48008

Spitfire V

EN921

Kneeling nude artwork

YO•A

PYN48008

Spitfire IX

MK210

Tolly/Hello (reclining nude artwork)

None

PYN48009

B-17F-115-BO

42-30715

Cincinnati Queen

CC*Y

PYN48009

B-17G-20-BO

42-31585

Mount N' Ride

OR*B

PYN48010

B-17G-50-DL

44-6483

Ruby's Raiders

G

PYN48011

B-17F-25-DL

42-3082

Double Trouble

None

PYN48011

B-17G-30-BO

42-31767

Our Gal Sal

EP*F

PYN48012

B-29-25-MO

42-65306

The Outlaw

None
1/48 Scale Cutting Edge National Markings
| | | |
| --- | --- | --- |
| CED48260 | B-17 Standard Insignia #1: used until August 1942 | $ 6.99 |
| CED48261 | B-17 Standard Insignia #2: August 1942 to June 1943 | $ 6.99 |
| CED48262 | B-17 Standard Insignia #3: June 1943 to September 1943 and later. | $ 6.99 |
| CED48263 | B-17 Standard Insignia #4: September 1943 to the 1950s. | $ 6.99 |
| CED48270 | B-29 Standard Insignia. This set contains 50" fuselage and 60" wing stars & bars | $ 6.99 |
1/32 Scale
TYPE

SERIAL

Stock #

NICKNAME/NOSE ART

CODES

Thumbnail
Click to enlarge

P-38J-15-LO

42-103993

PYN32001

Marge

993
One of the perennial challenges for aircraft modellers is the authentic depiction of nose art.
Conventional screen-printed decals exhibit a noticeable dot-screen pattern on flesh half-tones, and limited-run markings have been few and far between. The new PYN-Up Decal range addresses this gap with their innovative combination of high quality components, delivering a comprehensive finishing package.
The printing of all the markings is excellent but, in particular, the flesh tones on the nose art decals must be seen to be appreciated.
The PYN-Up sets are not inexpensive, but I am sure that many modellers will consider them a luxury worth having. You'd better hurry though - only 300 of each PYN-Up set will be produced.
Highly Recommended.