We have not exactly been knocked down in the rush of decal companies offering after-market markings for the Spitfire Mk.VII, so it is nice to see four subjects presented in these new sheets from red Roo Models.
Red Roo's Spitfire Mk.VII decals are available in both 1/48 and 1/72 scales.
These four high altitude Spitfires saw service with 453 Squadron RAAF in the UK during 1943. 453 Squadron was an Australian fighter unit equipped with Buffalos during the fall of Singapore. Survivors returned to Australia and the Squadron was disbanded on 15 March, 1942. In June 1942, the third RAAF fighter Squadron in the UK was allocated the number 453.
In October 1943, 453 Squadron received three Spitfire Mk.VII MB high altitude fighters to add to its inventory of Spitfire Vb LF aircraft. These high altitude interceptors retained the "DU" codes from their previous custodians, 312 Sqn, RAF. Several replacement airframes were also delivered in late 1943 and early 1944.
Three of the aircraft covered on Red Roo's decal sheet are finished in standard day fighter camouflage of Ocean Grey, Dark Green and Medium Sea Grey, with the usual trimmings. The fourth Spitfire is in upper surfaces of Medium Sea Grey and lower surfaces of PRU Blue.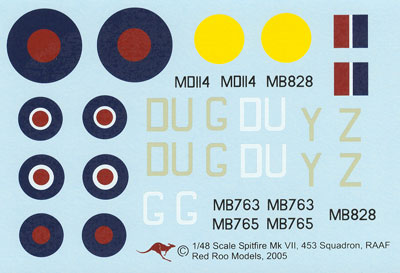 A single set of Sky squadron codes is supplemented with three separate aircraft numbers, so the modeller can build any one of the three OG/DG/MSG aircraft plus the MSG and PRU Blue subject using the supplied code letters. Only one set of fuselage roundels and fin flashes is included on the sheet, so if you do want to build two aircraft, you'll have to source a second set from elsewhere (They're easy enough to find though, including in the kit!)
The quality of the decals is very good. They are in register, with fine carrier film.
Instructions are excellent. The history and markings of each aircraft are covered over seven sheets of A4 paper. Reference photos support the colour artwork.
Red Roo's Spitfire Mk.VII decals will a welcome addition to fans of the RAAF, Spitfires or RAF aircraft in general.
Recommended.