S u m m a r y

Catalogue Number:
N/A - Mustang Mk IV 442 'Caribou' Squadron RCAF
Scale:
1/48
Contents and Media:
Waterslide decals
Price:
CAN$20.00 for non-IPMS Canada Members or CAN$15.00 for IPMS Canada Members available from IPMS Canada website.
Review Type:
FirstLook
Advantages:
Resin louvres supplied for four aircraft; great schemes and interesting markings; sufficient national markings for three models; sharp and clear printing; perfect register; minimal carrier film; good instructions
Disadvantages:
"Dallas hood" also required (eg Squadron vac form)
Recommendation:
Recommended

Reviewed by Rodger Kelly


HyperScale is proudly supported by Squadron.com
Sweating Beaver decals are produced by IPMS Canada. Being Canadian, they tend to concentrate their efforts towards aircraft flown by the Royal Canadian Air Force (RCAF).
This sheet concentrates on a single squadron at a single point in time and provides markings for four P-51 Mustangs, or in the parlance of the RCAF Mustang Mk IVs, of 442 'Caribou' Squadron. The markings depict the aircraft when they provided escort to the naval force that liberated the Channel Islands following the German surrender on 9 May 1945. The individual aircraft are: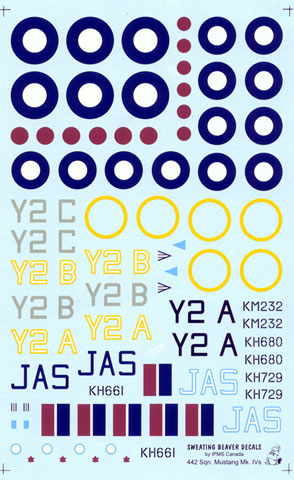 KH729, Mustang Mk IVA (P-51K 44-11497) flown by Squadron Leader Mitchell Johnston. The aircraft is in overall natural metal finish. The spinner is yellow with a black tip and the anti-glare panel and canopy frame are yellow with a thin dark blue outline. Markings comprise:
∑ Yellow and black Y2 (squadron) and A (individual aircraft within squadron) codes. These markings are two-part decals with the corresponding black code being placed on top of a yellow one to give the yellow edging.
∑ KH729 serial in black
∑ A Squadron Leader's pennant. This is also a two-part decal to combat register problems.
∑ Small RCAF 'overseas' roundels for both sides of the fin
KH680, Mustang MK IVA (P-51K 44-1383) the 'Edmonton Special' flown by Pilot Officer A.J. Mallandine. This machine is in the standard RAF 'temperate scheme' of dark green/ocean grey upper surfaces over medium sea grey lower surfaces with an 18"sky rear fuselage band and yellow leading edges (outboard and including the machine gun panel) to the wings. The spinner, anti-glare and canopy framing are in yellow as per the previous aircraft but lack the blue edging. Markings comprise:
∑ White 'Edmonton Special' title.
∑ Two-part yellow and sky Y2-B codes.
∑ KH680 serial in black.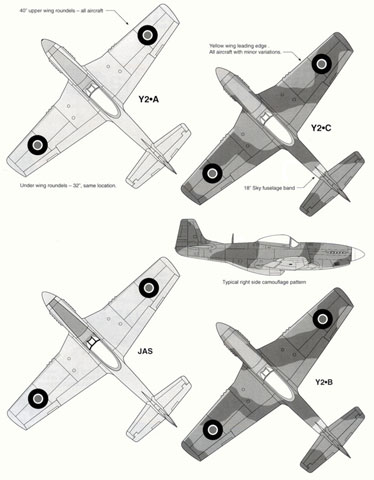 KM232, Mustang Mk IVA (P-51K 44-12395) flown by Wing Commander James Storrar. The aircraft is in highly polished overall natural metal finish with a light blue anti-glare and a lighter blue (perhaps faded?) canopy frame that both have thin blue edging. The windscreen framing as well as the carburettor intake and a thin stripe around the nose are in dark blue. Markings comprise:
∑ Two part light and dark blue codes. As per RAF custom, these codes are the Wing Commander Storrar's initials.
∑ Two-part Wing Commander's pennant.
∑ Black KM232 serial.
The final option is KH661 (P-51D 44-11188) flown by Flying Officer P. Bremner. The aircraft is in the same RAF temperate scheme as the second machine and the individual markings consist of:
∑ Sky Y2 Ė C codes.
∑ Small RCAF 'overseas' roundels for both sides of the fin.
∑ KH661 serial in black.
National insignia markings for all aircraft comprise 36"Type C1 fuselage roundels with 40" type C roundels on the upper surfaces of the wings and 32" Type C roundels on the lower surfaces of the wings and a 24" x 27" fin flash. Enough national insignia are provided to produce three complete aircraft.
The decal sheet itself is printed by Microscale. They are thin and have minimal film surrounding each design. Everything is in perfect register, sharp and clear.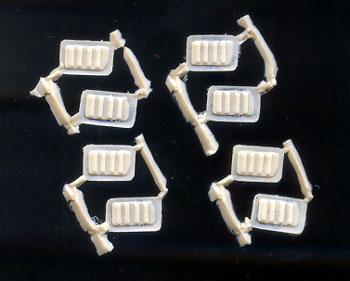 A peculiarity of Mustangs operated by Commonwealth squadrons (RAAF 3 Squadron ones included- though not all of them) is that they sported a louvered panel that was mounted over the perforated engine cowl breather panels. Four sets of these louvered panels are included with the decals.
The sheet includes a two sided A-4 sized placement sheet that sport coloured left hand side profiles of each option on the front as well as black and white top views on the rear.
A further double sided A-4 sized sheet provides comprehensive information on each option and records the particular peculiarities of its markings and paint scheme. Further information is provided on the interior colours and finishing practice and equipment fit out of 'British' Mustangs. The sheet also includes guidance on how to prepare the resin louvre panels as well as drawings to help you convert the uncuffed Hamilton Standard prop blades found in the Tamiya 'Korean War' Mustang kit into the Aero Products propeller worn by the P-51K.
No mention is made of the fact that you also need to find a 'Dallas Canopy' but these are easily found in the Hasegawa P-51 kits or from Squadron Signal in their vacfom replacement series. The Hasegawa kit also has Aero Products prop blades but they are a tad on the skinny side. Having said that though I have used them on a couple of Tamiya Mustangs as the Hasegawa spinner readily fits to the Tamiya kit and they donít really look all that anaemic.
The decal sheet, placement guide, instruction sheet and resin louvered panels come packed in a clear plastic zip loc-bag.
A nice package from Sweating Beaver Decals that provides you with good quality decals and a well-written, informative placement sheet at a reasonable price. It gives you great markings and schemes that are not normally seen on P-51s as well as the resin louvered panels that will no doubt find their way onto a couple of RAAF 3 Squadron models.
If you want to see what the finished product looks like, go to the IPMS Canada web site at: http://www.ipmscanada.com/442teaser.html where there are pics of first option as well as an article by Randy Lutz on the 'Edmonton Special' that provides some background on 442 Squadron Mustangs.
Recommended.