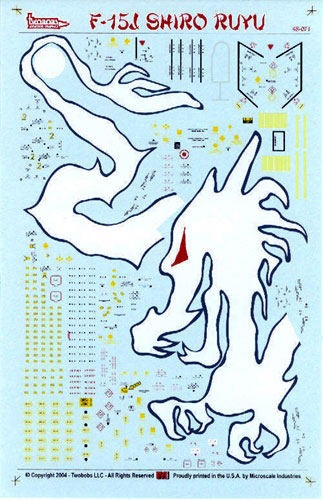 One thing that can be said about Bob Sanchez at Two Bobs decals,,,,,, he likes colorful aircraft!! Last week I received several sheets of his latest releases and each and every one of them is really cool. My personal favorite of this batch has to be sheet number 48-071 F-15J Shiro Ruyu "White Dragon".
For those of you wanting a really awesome 1/48 F-15J (F-15C) I would highly recommend this one. The aircraft depicted is a standard marked F-15J with a huge dragon spanning the top of the wings and a dragon mouth on the nose. The dragon is white and has a red eye.
Let me give a little history on the marking before I review the sheet itself. This particular aircraft is one of four aircraft painted in this scheme for the 2003 Japanese air show season. Of the four aircraft this one (72-8963) is the only one with the dragon mouth on the nose. Photos of this very aircraft can be seen in Koku Fan December 2003 issue.
The sheet comes with a full color instruction sheet that we are all accustomed to with Two Bobs. There are no photos of the actual aircraft on the instructions due to copyright laws. You do get a list of kits and aftermarket accessories that you can obtain in order to build this aircraft. There is also a brief history lesson on Japanese MSIP F-15s that you will find very informative. The back side of the instructions provides you with top and bottom views for placement of the Dragon and all of the stencils. You get three sheets of decals in this one. The main sheet includes the bulk of the dragon along with the multitude of stencils. The white portion of the dragon is very opaque so anyone concerned with bleed through of the paint color need not worry. The second sheet contains the remainder of the dragon along with the mouth for the nose and the Hiinomorus and squadron codes. The last little sheet contains more stencils!!
Click the thumbnails below to view larger images:
Overall quality of the decals is stunning. Register is perfect and the colors are all spot on. There is very little in the way of decal film as well. I would have to say that this sheet is easily one of my favorite releases that Two Bobs has ever done. I will let the images speak for themselves here. My only wish now is that Bob will scale this one up to 1/32 as I have a spare Tamiya F-15C that I would like to adorn with the Dragon. I am sure the 1/72 fans out there could handle it in their scale as well J.
It is a great value for the money considering the sheer volume of decal that you get.
Recommended.
My thanks to Bob Sanchez at Two Bobs Aviation Graphics for the review sample