VFA-192 Golden Dragons is a Squadron with a pile of history behind it. I would venture to say that the Super Sh*t Hot World Famous Golden Dragons is second in popularity in the US Navy only behind the Skull and Crossboned Jolly Rogers. Two Bobs has just released a decal sheet with an F/A-18C CAG bird and two mission marked squadron jets. The CAG jet has is a standard camouflaged aircraft of FS36320 and FS36375 with one exception. The vertical stabs are FS15044 blue with a bright yellow dragon covering the bulk of the tail on the outer surfaces. The inside of the tails have a 5 color arrow of sorts covering each of the Kitty Hawks squadrons. The modex number is 300. The stars n Bars are full color as well.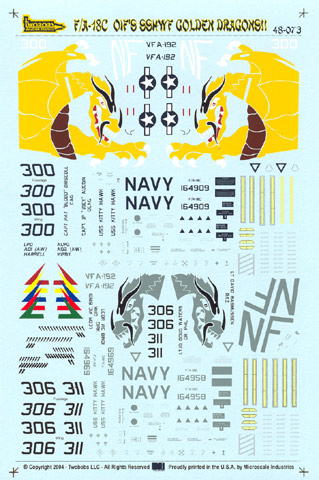 The other two squadron jets are modex numbers 311 and 306. There is one error on the instruction sheet though. The side profile of modex 311 is marked in the text as 306. This is a simple error and should not be an issue. Both aircraft are FS36320 and FS36375 and both have the low vis Dragon head on the vertical stabs. Each aircraft has mission markings on the port nose.
The sheet is very comprehensive including plenty of stencils and slime lights for the CAG and low vis versions. I am quite sure you could build two completejets from this sheet. There are two addendum sheets included as well. One is a small sheet with two red and two grey intake warning stencils. The other sheet has two black walkways for the top of the LERX's.
I am quite impressed with the stencilling on this sheet. Even the smallest stencil is very legible. The mission markings are also quite faithfully reproduced.
The instruction sheet includes several pictures of the CAG bird along with the normal list of kits and accessories available in 1/48 scale. One very informative part of the instruction come in one of the photos. The CAG bird is shown on landing and it is pointed out that the main gear struts on this jet are also painted yellow. Pretty cool!!
I am not a big fan of the Hornet. I cannot really say why. I have never found it an appealing aircraft. Now, with that being said, this sheet has surely swayed my interest. It is great to see the USN finally getting back some color on their jets. The days of brightly colored aircraft are slowly coming back and that is good news.
Recommended.
My thanks to Bob Sanchez at Two Bobs Aviation Graphics for the review sample