One of the newest releases from Two Bobs is 48-086, 1/48 scale US Air to Air Missile markings.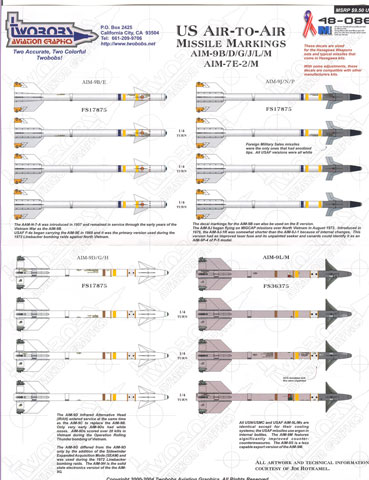 The set is very straightforward and provides all of the stencils and stripes etc for the AIM-9B / D / G / J / L / M and the AIM-7E - 2/M. You get enough markings for four of each type of missile. The instructions give call outs to each type of missile and show each one in four different, as if rolling views. Paint instructions are very easy to follow as well. If there are difference between US used missiles and missiles operated by foreign users, they are called out in the instructions. The decals have been sized for the Hasegawa line of weapons but I am sure with careful trimming they can be used with other manufacturers missiles as well.

The decals are made so that they can be wrapped around the missile body, meaning that minimal trimming will be necessary. As usual with Two Bobs, the decals are printed by Microscale and are well within register and the colors look spot on.
Why has it taken so long for a set of markings like this to show up on the market?
It is truly a blessing to have accurate markings without having to cobble items up from the spares box just to make it look the part.
This sheet is such a hot seller for Bob that it has already sold out! Do not fear though as Bob Sanchez has informed me that he is already getting this sheet reprinted and it will be available again very soon. I will be ordering another 8-10 myself once the reprints are available. Now maybe we can get him to do some AMRAAMs or even some mud mover markings?
How cool would that be?
Recommended.
My thanks to Bob Sanchez at Two Bobs Aviation Graphics for the review sample