Well known Tomcat aficionado Brian Marbrey contacted me a few weeks back about a new decal company that he did work for and asked me if I would be interested in writing a review for him. Knowing Brian's love of the Turkey, I jumped at the chance to review the sheet as I knew it would be well researched and as accurate as possible. I was not wrong. This is the initial release for VF-Decals and if they continue to put out a product of this quality, they will be a force to be reckoned with in the decal market.

The decals come well packed in the standard clear plastic zip lock bag and they feature very sturdy paper for the instructions. You get markings for four jets in both hi-vis and lo-vis. Your choices are:
F-14D #164 BuNo 164342 from March 2004. This jet carries Hi vis markings.

F-14B #101 BuNo 163222 from March 2004. This one is also Hi Vis

F-14D #155 BuNo 163900 Lo Vis

F-14D #162 BuNo 163902 Lo Vis as well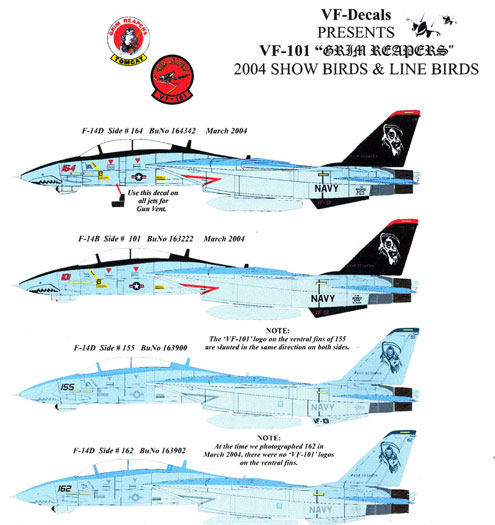 The decals are very thin and are in register. The Grim Reaper looks superb in both white, for the Hi Vis and Grey for the lo vis jets. You get an adequate amount of stenciling for both paint schemes. You are able to build one Hi Vis and one Lo Vis jet from this sheet.

Overall I am very impressed with this sheet and look forward to more from VF-Decals. The sheet is a very reasonable $10.00 USD. I for one am happy that they decided to do the "Reapers" as they are my personal favorite markings applied to F-14s. I guess I will have to drag my Hasegawa D model out of the stash and actually think about building it.
Recommended.