S u m m a r y

Catalogue Number and Description:

48-050 - Planes of the Movie "Dive Bomber"

Scale:
1/48
Contents and Media:
Eight (!) decal sheets and comprehensive instructions.
Price:
USD$29.95 available online from Yellow Wings website
Review Type:
FirstLook
Advantages:
Outstanding history, reference and instructions; all markings for 12 aircraft; colour matches to Testor, Gunze and Tamiya model paint ranges; high quality printing of decals by Microscale; great value for so many sheets
Disadvantages:
Recommendation:
Recommended
Reviewed by Rodger Kelly



Yellow Wings 1/48 scale decals are available online from Squadron
When these decals were first previewed on the net, I could not wait to get my hands on set. I have to admit, though, that I was a little hesitant that the decals would not live up to the hype that they were receiving.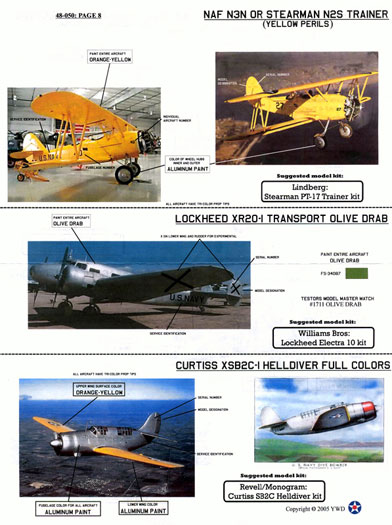 Now that I have finally got a set, I can say that my fears were unfounded. The guys at a Yellow-Wings Decals have done an excellent job with this one!
So just what was the movie "Dive Bomber" all about and why is it so well remembered? Well, the movie's storyline is about a U.S. Navy Flight Surgeon (Errol Flynn) who is researching G-induced black-outs and together with Fred Mac Murray, they look at ways to prevent this phenomenon.
Whilst the movie is very dramatic in the true Hollywood style, to me the real stars of the movie are the aircraft that feature. The movie was made immediately prior to WWII and as such feature real and period aircraft of the Yellow-Wing era in full colour.
So what do you get for your money? A whole lot! The set comprises eight decal sheets. The individual machines are:
Markings are provided for four different full colour Vindicators, 3-B-1, 3-B-2, 3-B-3, and the Commanders aircraft (CAG Bird). A fuselage band (red) for the number one aircraft in the squadron and wing chevrons (red) for all three machines of the first section plus the diagonal band used on the CAG bird are provided. Just in time for the new Accurate Miniatures kit!
There are three different full colour TBDs to choose from. 3-T-13, 3-T-14 and 3-T-15. There is a fuselage band (green) for the Section Leaders aircraft as well as wing chevrons for all three machines of the fifth section and VT-3 squadron insignia. Markings for three grey TBDs also feature- 3-T-2, 3-T-3, and 3-T-6.
A single SBC-3 features. It is in full colour finish and wears the Group Commanders 6-S-1 markings. VS-6 Squadron insignia is supplied as wing chevrons and fuselage band (red).
Markings are provided for 3 full colour 3F-2s and a single F3F-3. The F3F-2s are 6-F-1, 6-F-4, and 6-F-10. The F3F-3 is 6-F-14. Squadron insignia for VF-6 is provided as are the appropriate section leader fuselage bands as well as wing chevrons (red, white, green and black). You also get the appropriate pin striping (black and white) for the fuselage bands and cowlings.
Markings are supplied for three full colour machines, 5-B-1, 6-B-2, and 6-B-7. VB-6's Squadron insignia is also supplied as are fuselage bands and wing chevrons (red, and blue respectively).
Markings for a single full colour SOC-1 are provided. These markings are for the machine operated from USS Houston. The supplied markings include the side numbers – 4-CS-14, wing chevron (black) and (blue) bands for the tail.
Markings for a single machine with no Squadron assignment.
Lockheed Electra Model 10
Markings for a single machine – again, with no squadron assignment.
Curtiss XSB2C-1 Helldiver
The markings are for the experimental aircraft, Bureau Number 1758.
A single machine, 3-F-17 in grey camouflage.
Again, for a single machine, 3-S-10 in grey camouflage.
NAF N3N or Stearman N2S (Yellow Perils)
Strangely, no written description this aircraft is included on the information sheets but visual mention is made on the placement guide. Markings for four machines are provided. 22, 27, 29, and 36, all of Training Squadron 2.
Click the thumbnails below to view larger images:
---
As well as the aircraft specific squadron markings, individual Bureau Numbers are supplied for each aircraft on the sheet(s) as well as U.S. NAVY titles, and national insignia. Especially welcome is the small sheet that holds 136 red yellow and blue propeller tip markings as this sure will save a lot of masking.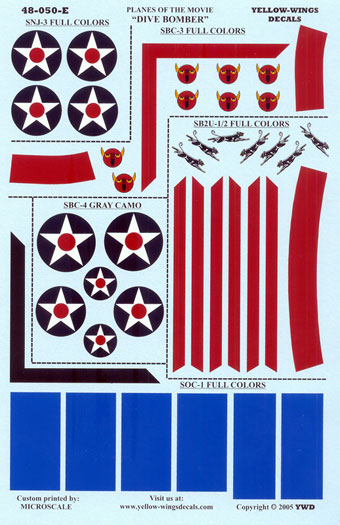 As with all of the Yellow-Wing Decals sheets that I have see, it is the accompanying documentation that make their products complete. This set is no exception and it comes with six A-4 sized sheets (double sided) of information on the movie, the featured machines, how and why they were painted and marked, and of what kits and model paints are available to replicate them in 1/48 scale.
The decals themselves have been printed by Microscale. They are all in perfect register, sharply printed, extremely thin and have a minimum of film surrounding the individual subjects.
The decals and supporting information sheets come packed in a clear plastic zip-loc bag. A stiff cardboard header card is also provided to prevent creasing.
At $29.95, I don't think you will find better value. You get complete markings for twenty seven aircraft on eight decal as well as full supporting information on how to model them.
Recommended.