Summary
Catalogue Number:
ZTZ 48006; ZTZ72006
Scale:
1/48 (ZTZ48006) reviewed, 1/72 (ZTZ72006)
Contents and Media:
See detail below
Price:
TBA
Review Type:
FirstLook
Advantages:
Excellent printing, comprehensive instructions, very diverse set of markings
Disadvantages:
Recommendation:
Highly Recommended.
R
eviewed by Kursad Albayraktar


HyperScale is proudly sponsored by Squadron.com

F-16 has been a huge international success story for Lockheed Martin (remember General Dynamics?), and many countries around the globe are operating this very capable aircraft.
This diversity of operators and markings is not reflected to aftermarket decals, however: For some reason, decal manufacturers choose to ignore F-16 operators except USAF and Israel.
Zotz, the new brand from Albatros Decals, has seen this niche and moved in to fill this need with an extensive set of international F-16 decals in 1/48 and 1/72 scale.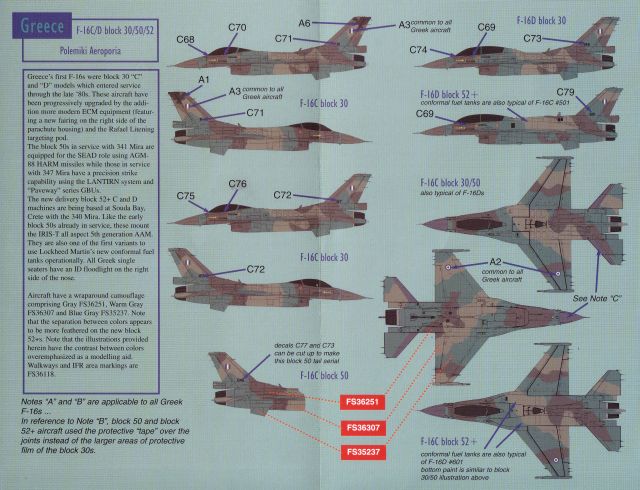 The first set in this effort is finally available, and as you will probably agree, "extensive" would be an understatement here!
The "Vivacious Vipers" series by Zotz will cover many different countries when complete, and each set in this series will contain multiple sheets. The first set covers the F-16 operators Bahrain, Denmark, Egypt, Greece, Pakistan, Portugal and Turkey. All country-specific stencilling have been provided, and using the markings on this sheet, it will be possible to build at least one F-16 from any of the seven countries covered. The sheet I will review is the 1/48 offering, ZTZ48006, but I understand ZTZ72006 will be the same sheet in 1/72 scale.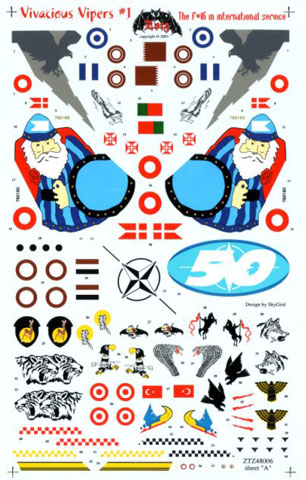 The printing quality is excellent (I degraded the images in this review to protect Zotz's artwork), and the set contains three separate sheets plus two small sheets for last-minute corrections (Greek serial numbers in dark grey, and a corrected Portuguese "RESCUE" arrow to fix a small typo.). The instructions are very comprehensive and explain different features of each operator's F-16 fleet, and variations in equipment and markings. All color references are given as FS numbers.

The contents of the sheets is as follows:
Bahrain: One F-16C Block 40(serial 103) and one F-16D Block 40(serial 154).

Denmark: One F-16A Block 05(serial 78-0180, "E-180") in NATO's 50the Anniversary special scheme. This is a striking scheme with a large Holger Danske character on the tail and gold/blue markings on one wing. Additional markings are provided for a "plain" version of this Danish F-16 without the anniversary markings.

Egypt: One F-16C Block 40(serial 9969) with orange ID panels on outer wings and spine. These ID panels are very distinctive and would look great on your F-16. Even a lengthened aft spine decal for the F-16A is provided to make it possible to build an Egyptian F-16A.

Greece: One F-16C Block 30(serial 111) with a large eagle tail art, one F-16C Block 30(serial 127), one F-16D Block 30(serial 149), one F-16D Block 52+(serial 601), one F-16C Block 52+(serial 501), and one F-16C Block 50(serial 045).

Pakistan: One F-16A Block 15(serial 84705) with large "Griffins" squadron tail art, one F-16A Block 15(serial 85723) with two Afghani kill mark roundels under the canopy sill, one F-16A Block 15(serial 84717) , a Su-22 killer. Two different sets of Pakistani low-vis roundels and flags are provided to allow for fading and tone variations on Pakistani aircraft, a very classy touch on Zotz's part! Country-specific stencilling is excellent, this was a big problem in building Pakistani F-16 models before...

Portugal: One F-16A ADF (serial 15117) and one F-16A ADF(serial 15101) with Esq.201 "Falcons" emblem on the tail. Once again, the Portuguese stencilling is provided.

Turkey: One of the largest F-16 operators in the world with more than 200+ F-16C/D's, the previously ignored Turkish Air Force is represented prominently on this sheet. The sheet contains 11 Turkish F-16C/D's with Turkey-specific stencilling and different squadron emblems. Having helped with the research for this part, I am thrilled with the diversity of options and the accuracy of the markings. A full list of Turkish aircraft on the sheet is:

F-16C Block 40 (91-0014), 141.Filo ("Wolf") based in Akinci (Ankara).
F-16C Block 30 (88-0031), 142.Filo ("Gazelle") based in Akinci (Ankara).
F-16C Block 30 (87-0021), 143.Filo ("Oncel") based in Akinci (Ankara).
F-16D Block 50 (94-1560), 151.Filo ("Bronze") based in Merzifon.
F-16C Block 50 (94-0088), 152.Filo ("Raider") based in Merzifon.
F-16C Block 40 (90-0022), 161.Filo ("Bat") based in Bandirma.
F-16C Block 40 (89-0045), 162.Filo ("Harpoon") based in Bandirma.
F-16C Block 40 (93-0001), 181.Filo ("Leopard") based in Diyarbakir.
F-16C Block 40 (91-0017), 182.Filo ("Hawk") based in Diyarbakir.
F-16C Block 50 (94-0078), 191.Filo ("Cobra") based in Balikesir.
F-16D Block 50 (94-1563), 192.Filo ("Tiger") based in Balikesir, Tiger Meet 2002 (Beja, Portugal) markings
Click the thumbnails below to view larger images:
Overall, this is an excellent sheet, and provides great value for the modelers who would like to add an international F-16 to their collections.
Many HyperScale regulars have collaborated to help Zotz in their research for this sheet, and the results are well worth the effort. I am certain this will be a hot seller, make sure you order one before it's gone!
I am looking forward to the rest of the series, and congratulate Zotz for this great product.

Highly Recommended!
Thanks to Eli from Zotz / Albatros Productions for the sample
---
Albatros and Zotz Decals are available from many dealers including CRM Hobbies , Linden Hill Imports , Great Models webstore , Flightdecs , Victory Models , Hannant's , North American Hobbies and Squadron Mail Order
---
Review Text Copyright 2004 Kursad Albayraktar
This Page Created on 15 June, 2004
Last updated 15 June, 2004
Back to HyperScale Main Page
Back to Reviews Page