RAF WWII Mustang
Part I
1/48 scale
AeroMaster Decals

S u m m a r y

Catalogue Number:
AMD 48-669 - RAF WWII Mustang Part I
Scale:
1/48 scales
Contents and Media:
Waterslide decals plus instructions and notes
Price:
each USD$8.47 from Squadron.com
Review Type:
FirstLook
Advantages:
Interesting markings; helpful instructions including options for possible paint finishes; excellent printing of decals; in register; national markings supplied for all four options; tied in with subjects in On Target Profiles No. 2
Disadvantages:
No stencil data
Recommendation:
Recommended

Reviewed by Rodger Kelly


Aeromaster's 1/48 scale RAF WWII Mustang Part I is available online from Squadron.com
Tired of 8th Air Force P-51s but still want to model Mustangs? Then AeroMaster has come to your rescue with two new sheets covering Mustangs operated by the Royal Air Force.
The title is a bit of a misnomer however as two of the machines are from the dominion Air Forces of Australia and Canada.
AeroMaster acknowledge that information from the Aviation Workshop's On Target Profiles Number 2 - RAF and Commonwealth P-51 Mustangs - was used to produce these two sheets. This book has previously reviewed here on Hyperscale –
http://misc.kitreview.com/bookreviews/avworkshopp51bookreviewrk_1.htm
All four options on this sheet feature in this book.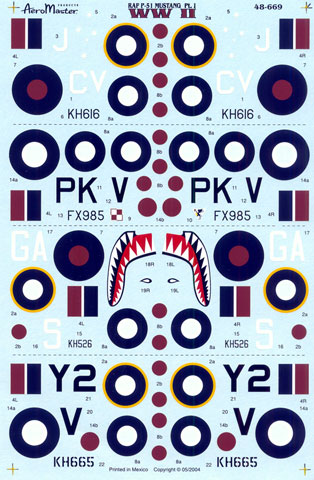 Sheet 48-669 provides markings for four machines, two Mustang Mk IIIs and two Mustang Mk IVs. The individual machines and their markings are as follows:
Mustang Mk III, KH616 of 3 Squadron, Royal Australian Air Force based in Italy in 1944-45. The placement guide advises that the aircraft could have been painted in RAF colours of dark green, ocean grey and medium sea grey after its delivery to the RAF OR it could have been in its delivery colours of Ana 613 olive drab Ana 603 sea grey and Ana 602 light grey. The rudder and spinner are painted in light mediterranean blue. The supplied markings are:
White CV squadron codes and individual aircraft letter J.

3 Squadron's depiction of the Southern Cross in white for the rudder.

Black KH616 serial.

Full national insignia comprising type B for the upper wings, type C1 for the fuselage, type E for the undersides of the wings, and a pair of fin flashes. The red centres for the C1 and E roundels are supplied as separate decals to counter any register problems – none existent on my sample.
Note that this machine has a fin strake so you will need the Accurate Miniatures kit if you opt for these markings.
Mustang Mk III, FX985 of 31 (Deblinski) Polish Squadron, RAF in 1944. The aircraft is in natural metal finish with an olive drab anti-glare and a red spinner. The supplied markings are:
Black PK squadron codes and V individual aircraft code letter.

Black FX985 serial.

A Squadron 'fighting cock' crest.

Small Polish flag for the nose.

A full set of national insignia as per the 3 Squadron option.
If you think that these markings look familiar, then you are right. They are the same as supplied in the Tamiya RAF Mustang III kit.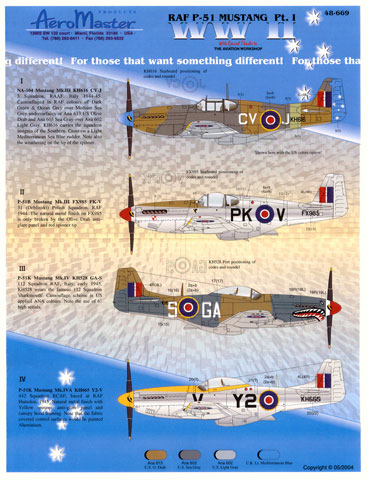 Mustang Mk IV (P-51K) KH526 of 112 Squadron RAF in Italy early 1945. The placement guide advises that it is in the delivery scheme of Ana 613 olive drab Ana 603 sea grey and Ana 602 light grey with a red and white spinner. The supplied markings are:
White GA squadron code and individual aircraft code S in white.

Black KH526 serial.

A set of shark teeth and eyes. The shark mouth markings are supplied as left and right halves to ease placement.

A full set of national insignia as per the first option.
These markings featured in the first release of the old (but good) Otaki kit.
The final option is another P-51K or Mustang IV as the RAF named them. KH665 of 442 Squadron Royal Canadian Air Force at Hunsdon in 1945. The machined is in natural metal with a yellow spinner, anti-glare (I bet it did glare!) and canopy frame. The supplied markings are:
Black Y2 squadron codes and individual aircraft letter V.

Black KH665 serial.

A full set of national insignia as per the first option.
The decals themselves have been "printed in Mexico". Everything is in prefect register and the colours look pretty good to me. They are a little on the thick side compared to other "Printed in Mexico" sheets from AeroMaster but no thicker than the ones produced by Cartograf.
There is absolutely no stencil data on the sheet. Perhaps the guys at AeroMaster weighed whether or not to supply national insignia for each option or a set of stencil data and the national insignia won. Personally, I would have opted for the stencil data but the extra national insignia is welcome in the spares box.
The placement guide is the standard A-4 sized sheet with full-colour profiles of each option and upper and lower plan views of each option.
The decal sheet and the placement guide are packed in a clear plastic zip-loc bag.
The recommended kits are Accurate Miniatures and Tamiya.
This is another nice sheet from AeroMaster.
Recommended.
---
Footnote
Three of the machines on the sheet feature a louvred panel over the engine cowling breather.
If you really want to you can scratch build these or you can purchase the IPMS Canada "Sweating Beaver Decals" sheet - RCAF 442 Sqn Mustang IVs. This sheet not only provides markings for four aircraft it also provides four sets of these louvred panels in resin. This sheet has also previously been reviewed here on Hyperscale http://decals.kitreview.com/decals/sweatingbeaverreviewrk_2.htm
Editor's Footnote to the Footnote - Red Roo Models also produce these louvres on a recently released "Mustand Bits" photo-etched metal set recently reviewed on HyperScale http://acc.kitreview.com/rrr48135reviewbg_1.htm
Thanks to Aeromaster / Eagle Strike Products for the review sets
---
On-line sales are available from the AeroMaster Products / Eagle Strike Productions web site.
---
Review TextCopyright © 2004 by Rodger Kelly
This Page Created on 16 August, 2004
Last updated 31 August, 2004
Back to HyperScale Main Page